< Back to Kitchen Keeper Recipes
No Fail, No Crust Quiche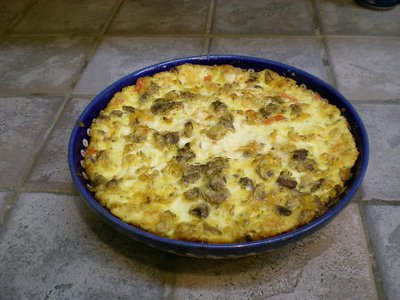 This is a great recipe for a crowd. I used it for a Mother-Daughter Brunch with more than 100 people. You can also bake this in a 9 x 13 inch cake pan. Double the recipe if you do so. This will give you 12-15 good-sized pieces.
Ingredients:
Choice of:

12 slices of bacon, crisply fried and crumbled OR
1 to 2 cups of chopped ham OR
1 to 2 cups of sausage, fried and crumbled

1 cup finely shredded cheese (I buy a colby jack combination, usually with Monterey, but you can choose whatever you prefer)
1/3 cup chopped onion (I use 2 TBLS of minced onion)
You may also add some veggies such as raw broccoli or mushrooms. It is also good with just cheese. For variety, you may want to mix several kinds of cheese.
2 cups milk
1 cup Bisquick
4 eggs
1/4 tsp salt
pepper to taste
Directions:
Preheat oven to 400 degrees and grease a 9-inch pie plate (or spray with Pam cooking spray)
Sprinkle meat, cheese, and onion in bottom of pan.
Beat all other ingredients together (I just use a whisk) and pour over the combination in the plate.
Bake 35 to 40 minutes or until a table knife inserted in the center comes out clean.
Side note: This reheats wonderfully. You can make this the evening before and let it cool. Cover and refrigerate overnight. You can reheat this in a 225 degree oven for about 30 minutes or reheat individual pieces in the microwave.
Serve this with fresh fruit, muffins and sweet breads.
Copyright © 2008-2015 Shirley Shedd
Read more about the writer: Shirley Shedd
---
Post Your Comment...
---