< Back to Kitchen Keeper Recipes
Gluten and Sugar-Free Pancakes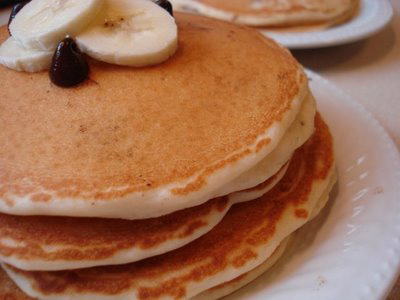 Ingredients:
5 C. of Brown Rice Flour
5 teaspoons (t) of Aluminum Free Baking Powder
½ t of Xanthum Gum
a couple pinches of Sea Salt
a generous amount of Cinnamin
a couple shakes of ground nutmeg
a couple shakes of Stevia*
½ stick of melted butter
¼ C of Unsweetened Apple Sauce
5 eggs beaten
1 t vanilla extract
2 T Unsweetened Soy Milk or Cream
3-4 C of water to batter consistency
*Instead of Stevia, you may melt 2 T of frozen apple juice in the water that will be used in the batter.
Directions:
Melt butter in the pancake skillet.
Combine the dry ingredients.
Add the applesauce and the butter.
Mix it thoroughly until the flour looks a little beady.
Add the vanilla to the beaten eggs and add them to the mix.
Add the milk/cream and stir.
Add the water one cup at a time until it becomes batter consistency.
When you pour the batter from the spoon it should flow like a thick waterfall.
Fry them in the hot buttered pan.
*Makes 18 pancakes.
Copyright © 2008-2015 Shermaine Jones
Read more about the writer: Shermaine Jones
---
Post Your Comment...
---