< Back to Kitchen Keeper Recipes
Bean Burritos or Layered Tortilla Pie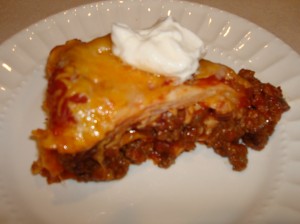 My family loved this meal! I basically made it up with basic ingredients I already had in my pantry and refrigerator. It is very easy, quick, and delicious if you like Mexican food.
Ingredients:
8 cups shredded cheddar cheese
3 cans black beans
3 cans white Northern beans
2 pkgs taco seasoning mix (OR make your own with: 16 t minced onions, 9 t chili powder, 1/8 t paprika, 3 t garlic or garlic powder, 3 t cumin, 2 t oregano, 1/8 t cayenne pepper)
1 (28 oz) can diced tomatoes (with basil, oregano, and garlic)
1 (46 oz) can tomato juice (optional)
10 flour tortillas
Sour cream
Directions:
Mix all these ingredients (except the last two!) together and place in your slow cooker on low for 2-3 hours. (**Note: Because I have young eaters who don't like chunky tomatoes, I puree the 28 oz can of diced tomatoes and the beans in my food processor.)
Wrap mixture in tortillas, top with shredded cheddar, and sour cream to make bean burritos.
OR . . .
Layer each tortilla with the mixture, cheese, tortilla, mixture, cheese, etc.
Make sure when you finish layering that all the tortillas are covered in the sauce, or the edges will burn.
Bake at 350 degrees for 8-10 minutes and cut into "pie pieces."
Make this great for company by adding shredded chicken or beef to the mixture!
Copyright © 2008-2015 Alyson Shedd
Read more about the writer: Alyson Shedd
---
Reader Comments...
2010-10-06 08:07:10
"YUM! this looks so delicious, I will try this for dinner tonight. thanks for sharing."
- Tamara
---
Post Your Comment...
---