< Back to Kitchen Keeper Recipes
Red Velvet Cake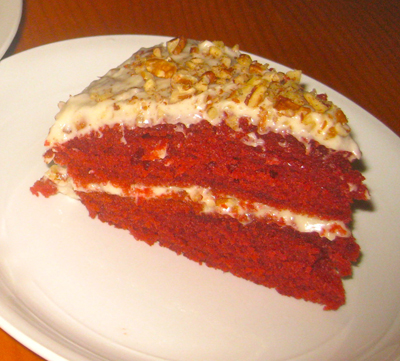 Cake Ingredients:
2 c Plain flour
1 c Sugar
1 tsp Baking soda
1 heaping tsp Cocoa
1 c Buttermilk
1 c Vegetable oil
2 Eggs
1 tsp Vanilla
1 tsp Vinegar
1 (1oz) bottle of Red food coloring
Cake Directions:
In a large mixing bowl, stir sugar and cocoa powder with a fork until there are no lumps.
Add oil and buttermilk, mix well.
In a separate bowl beat eggs, mix into batter.
Add vanilla, baking soda, vinegar and food coloring.
Mix together with electric mixer on low speed.
Gradually add in flour ½ cup at a time.
Make sure not to over mix.
Pour batter in to two well-oiled round pans. Or you can line bottoms and sides of pans with wax paper.
Bake at 350 for approx. 25 minutes.
Icing Ingredients:
8-oz cream cheese, softened
1 stick butter, room temp
1 box Powdered Sugar
1 tsp Vanilla
1 c Pecans, chopped
Icing Directions:
Using electric mixer cream all ingredients together.
Icing cake once it is well cooled.
Copyright © 2008-2015 Melinda Henderson
Read more about the writer: Melinda Henderson
---
Post Your Comment...
---