It's in the Bag!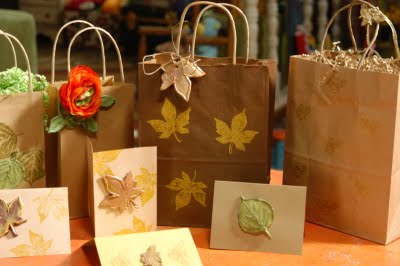 Today's economy has encouraged all of us to be more thrifty. For a bridal shower I gave recently, I picked up on that idea and had a Bag Party.
The theme of the bridal shower was housewares. I had seen a set of 10 short booklets giving tips on how to use common items for a variety of household tasks. Taking off on that, I bought 10 decorative gift bags at a dollar store for each of the household items that was discussed in the books: aluminum foil, baking soda, bleach, corn starch, lemons/lemon juice, paper bags, table salt, toothpaste, vegetable oil, and vinegar.
Each gift bag contained one of the booklets and the corresponding item, such as a bottle of vegetable oil with the booklet on all the many household uses of vegetable oil. Each bag was numbered. I numbered 10 cards, 1-10, and put the cards in a small (4 x 4 inch) gift bag.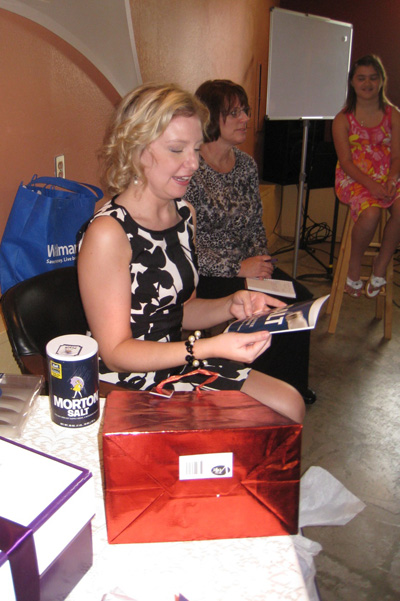 During the opening of the presents, I would interrupt and say, "Bag time!" and had the bride-to-be draw a card from the small bag. She was then given the gift bag with the corresponding number. After the second card, everyone was looking forward to seeing what was in each bag. The bride was fascinated and paged through the booklets, reading some of the tips aloud. At the end, she had 10 household items plus 10 books of tips on how to use them—and 10 lovely gift bags she could reuse for gift giving.
Not to leave out the guests, I bought enough of the small gift bags so that each guest could take one home. Using perforated business card stock, I printed one tip on each card. They were easy to print and tear apart, and each guest received 10 tips of her own. In addition, each small gift bag had one of the items corresponding to the household gifts given to the bride. For example, some bags had a lemon, some a small container of baking soda, some a small tube of toothpaste.
To continue the bag theme, I purchased a reusable bag and put in a wedding photo album and an album called "Family." Since the bride is a relative of mine, I reproduced some old family pictures to inspire her to trace family history. I included a copy of Making the Blue Plate Special by Florence Littauer, her daughter and daughter-in-law, and a blue plate!
Although the attendees represented a wide range of ages, everyone got involved in these bags. One older woman said, "This is the most fun shower I have EVER been to."
I hope you can use some of these ideas for your next celebration –the fun is in the bag!
Note: I have seen similar books of household tips in bookstores. I purchased the booklets from a gift catalog.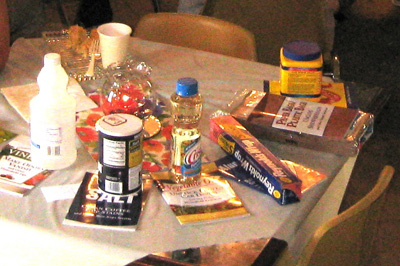 Copyright © 2008-2015 Shirley Shedd
Read more about the writer: Shirley Shedd
---
Reader Comments...
2011-07-06 16:04:17
"Lisandrea-- I really didn't add up the total, but I am quite sure it was under $50 for the gift. I see merit in choosing only one or two booklets to feature. Shirley"
- Shirley
2011-02-16 21:29:18
"I apologize for the long delay in getting back to you on the source for the books. I bought them through a LTDCommodities catalog. I did not find them in the catalog or online:www.ltdcommodities.com So I went to the publisher's website and located them: http://pilbookstore.com/category/46703421041/1/Household-Hints.htm Hope this helps. "
- Shirley
2010-10-24 06:45:30
"How much did this gift to the bride cost? The household items may not have added up to too much, but the addition of the booklets must have put this over the top. For someone trying to live thrifty I just wouldn't be able to do ten bags for anybody, but ONE would be fun! I do have the baking soda book, at least. 10 bags @ dollar store...@ $1 each, or in package of 10? 10 household items= at least another $10... 10 booklets... Trying to calculate if this is an Under $50 gift. Thanks for a VERY creative & fun idea!!!"
- Lisandrea
2010-10-23 21:17:41
"Wendy-- I can give you the name of the catalog I got the booklets from. I did not think it appropriate to "advertise" in the article itself. If you e-mail me directly, I will send you the information. (And this goes for anyone else who is also interested.) Shirley Shedd"
- Shirley
2010-10-05 18:04:56
"What a great idea! I'll probably use this one! And, forward it on to friends, too! Thanks so much for your ideas!"
- Cherie
2010-10-04 18:42:33
"What a wonderful, fun, useful idea. I wish you had given the names or source of the booklets, because I have never seen any such thing and I do not have time to shop and scour bookstores. You also seem to have some very pretty decorative bags at your dollar stores! Will most definitely try to find some booklets because I can imagine many different situations I can use them! "
- Wendy
---
Post Your Comment...
---