< Back to Kitchen Keeper Recipes
Apple Cake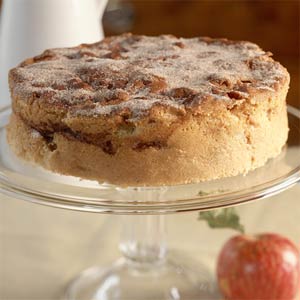 A favorite for the autumn season and perfect after an apple-picking outing!
Delicious alone or topped with ice cream or whipped topping!
Ingredients:
Mix:
1 ¾ cup sugar
1 cup vegetable oil
3 eggs
1 tsp vanilla
Combine in bowl:
2 cups flour
1 tsp salt
1 tsp baking soda
Directions:
Slowly add the dry ingredients to mixture above until well mixed.
Fold in 3 cups apples (cut into chunks) and 1 cup ground walnuts.
Pour into greased pan and sprinkle some walnuts on top.
Bake for 45 minutes to an hour at 350 degrees.
Copyright © 2008-2015 Dawn Sheridan Kollar
Read more about the writer: Dawn Sheridan Kollar
---
Post Your Comment...
---