Healed by a Powerful Prayer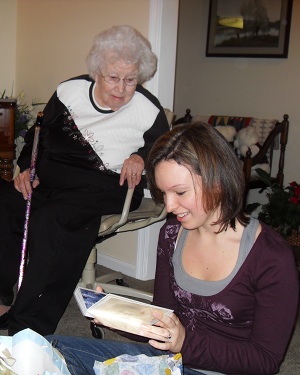 There are moments in life, that as you experience them, it is clear that every detail will be imprinted in your memory forever. My moment was September 13, 2010, around 8:00pm in the back bedroom of an old mobile home in Falling Waters, West Virginia.
To fully understand the intensity of this "moment," you have to rewind the clock to 9:00 a.m. that morning. That morning, I was at Johns Hopkins University in Baltimore, MD. As I sat on the cold bench, I almost bit a hole in my lip trying to keep it from quivering as Dr. Wong told me that my diagnosis had been confirmed. That morning, I became one of the thousands of people diagnosed with Crohn's disease every year. It felt like someone had put a vice around my chest as she explained the treatment plans, and I struggled to breathe when she finally advised me to take a semester off of school. So much for graduating from college in May…
To say I left that doctor's appointment with a heavy heart would be an understatement. You see, I just got over a battle with severe lupus. God had delivered me miraculously, and for the first time in three years, I was supposed to be on NO medication. But here I was, starting all over again.
We received a phone call from my grandmother as we were leaving the doctor's office saying that my 98-year-old great-grandmother wasn't doing well, and that we should come say our goodbyes. Talk about a depressing day.
We got over to West Virginia by nightfall. There was a silent understanding that I wasn't ready to talk about what was going on in my personal life, so instead I walked down the dark hallway into my great grandmother's room. I just took it all in for a moment. I could make out grandma's limp figure underneath the covers. She lay there staring; her stunning blue eyes looking into a place that no one else could see. Her small, soft, wrinkly hands laying at her side, and as always, her worn leather-bound Bible close by.
As the realization that grandma really was going home soon started to sink in, the rest of my worries seemed to slip away. This was my final time with my precious grandma, who had been my stronghold for 21 years. As I sat on the corner of her bed, and explained who I was, I watched her face come back to life again. "Stephie… I'm so glad you came to see me" she said between short breaths. After we had talked for awhile, and I had read her favorite Bible passage: Psalm 23 (which she recited while I read), I asked her if she wanted me to pray with her. "Oh yes, I just want to get out of this bed", she said as she batted back tears. I knew that she probably wouldn't get out of that bed again… the next steps she would be taking would be steps on streets of gold (as is our promise of heaven). But right now she was still facing her final battles on this earth, she was still hurting, and she was still believing in God for strength.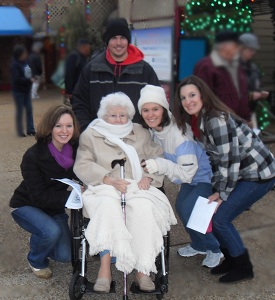 As she grasped my hand, I thought about all the times we had prayed together. I thought of the power-filled and fervent prayers that poured from this mighty woman of faith; a lot of which were prayers for me. And now I was taking both of us to the throne of God, and asking for strength. I knew she had no idea what I was going through; I didn't want her to know. As I began to speak the words of my prayer out loud, never have my words been so sincere. Here knelt two women in total different walks of life, completely dependent on the Lord. Neither of us knew how we were going to face the next day; yet we knew the answer resided in Jesus.
I'm not sure how to describe this prayer in words. It was as if the Lord had been in the room watching the entire time, and as soon as I called on His name, He just wrapped us both in His arms. As I let my heart break before the Lord for both myself, and for my great-grandmother's pain, I knew His heart was breaking too. But just as I knew that as much as I wanted grandma to get out of bed, I also understood that she didn't want my prayer to be answered. She wanted to be in glory. I realized that the Lord doesn't want to see me in pain, but He knows that through the pain comes great joy. He heard every word I prayed, and all the words that I never spoke. He read each tear that seemed to speak 1,000 words itself. Then, as my grandmother, great-grandmother, and I wept together, the only sound that broke the silence was grandma whispering "thank you Jesus…glory to God….halleluiah.".
Then, as we were leaning in the arms of Jesus, all of a sudden, grandma began to speak in tongues with a strength that seemed to come from deep within her soul. I cannot recount all the prayers I've heard come from this woman, but I know that I had never heard a prayer like this one. Out of this frail, dying body came forth a powerful prayer spoken through the Holy Spirit. This is the moment that truly is indescribable. It was as if Jesus took over our prayer when the circumstances were too great for words. I sat there, amazed that the tables had turned completely. I came in to pray for this dying woman, but I knew that now she was praying for me. Jesus was reaching out to me; I took one step towards Him, and He came running to catch me. And He choose to use grandma; a willing vessel: the perfect vessel, if I do say so myself.
I left that room with a sense of peace, and a humble spirit as I realized that I had been in the presence of the Lord. As the day went on, I thought it was interesting that I was able to eat dinner without feeling sick. I expected that since I hadn't gotten sick that day, I would surely wake up in pain that night. The next morning I was shocked to discover that I had slept soundly through the night, and still wasn't feeling sick after breakfast. After noticing this pattern for a few days, I finally called my doctor asking if I still had to do all the testing since I wasn't having any symptoms. Dr.Wong was completely shocked, and ordered the treatment plans to be stopped. A few days later my blood results came back completely normal, and I was officially on my way to remission and back to college!
Grandma went to be with Jesus not long after that powerful prayer. She will suffer no more. I now sit here at Valley Forge Christian College, typing this article with full energy, and feeling wonderful. I can eat well, sleep through the night, and am two weeks away from being officially off of prednisone. The Lord has touched my sick body, and made it whole again through the prayers of my great-grandmother.
Through this amazing experience I learned that God can use us in the greatest ways when we are at our weakest moments. My grandmother may not have been able to get out of bed, or take in a deep breath, but she could call on the name of the Lord and bring healing even when doctors could not. Our circumstances do not determine when God can or cannot use us; it is our heart. I will always be thankful for the way that the Lord chose to teach me this principle. I know one thing for sure, Grandma's prayer will never be forgotten.
Copyright © 2008-2015 Stephanie Blevins
Read more about the writer: Stephanie Blevins
---
Post Your Comment...
---