< Back to Kitchen Keeper Recipes
Sweet Potato Casserole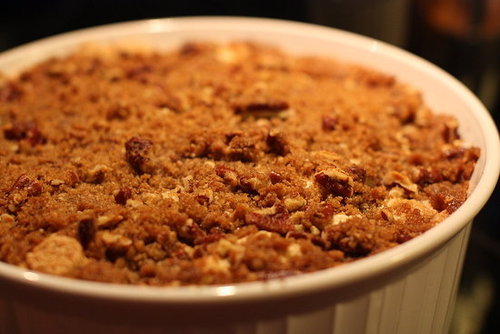 In our family there has never been a Thanksgiving Dinner without Sweet Potato Casserole!
Ingredients:
4 c. Mashed sweet potatoes
1 c. Butter-softened
1 c. Sugar
1/2 c. Milk
2 Eggs
1 tsp. Vanilla
1 c. Chopped Pecans
1 c. Packed brown sugar
1/2 c. Flour
Directions:
Cook the sweet potatoes.
Peel and mix with 1/2 cup of butter and 1 cup of sugar.
Beat in the eggs milk and vanilla.
Pour into a greased 2 qt casserole dish.
Combine the pecans, brown sugar and flour.
Stir in 1/2 cup of melted butter.
Sprinkle the mixture over the top and bake at 325 for 1 hour.
Copyright © 2008-2015 Melinda Henderson
Read more about the writer: Melinda Henderson
---
Post Your Comment...
---