Opening Your Home for the Holidays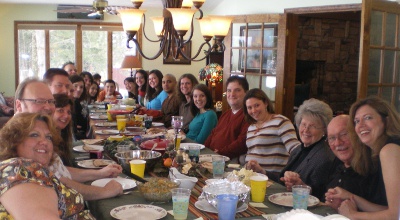 Growing up I had a warm and loving family that celebrated holidays together. It was always joyous and exciting to be home or visiting grandparents and cousins! Now, many years later, I realize what a blessing and privilege it is to spend special days with family.

There have since been many holidays that I was not with all of my family: when I was in college and too far to be home; when I shared them with my husband's great family instead of mine; when Charles, our three children and I were moved across the country to California to serve in the US Navy; when he was deployed on a ship; and most recently when my two adult sons, their wives and granddaughter moved to California to start a new church!

Quite honestly, I would never choose these valleys of separation, especially during the holidays. But, they have proven to be opportunities for personal growth. I am learning that when I feel disappointed and sorry for myself, the best thing I can do is reach out to someone who is also struggling. God is gradually helping me to be more understanding and sensitive to a world of people who have been without family or are experiencing loss and separation.

I recall the first year we were in the Navy. Our three children were all under the age of 5 and that Thanksgiving we invited a young sailor to join us for dinner. He was so thankful and I remember our kids being excited to have a guest for dinner! Now it is second nature to invite others into our family holiday gatherings--a few have even become regulars. I am learning that the more I open my heart and home to others, the bigger my family becomes!

Encouragement:

If you are blessed to be with your family, I encourage you to look around and ask God if He wants you to "adopt" others for the holidays. On the other hand, maybe you're alone and wish someone would reach out to you--I encourage you to talk to God about your feelings and even consider inviting someone to join you in your home that may appreciate your companionship.

The Bible makes it clear that when we treat others the way we want to be treated, this is a fulfillment of God's heart. When I think about God releasing Jesus to come to the earth as a human, I am comforted that He understands my heart that longs for my children who are far away. And Jesus was willing to leave His home in heaven so that we could be adopted into God's family and receive a home in heaven!

If you have lost someone recently, I pray that God will comfort you with His amazing arms of love. He knows what you're feeling, and I believe He will give you the power of His grace to not only get through this, but to reach out to someone else who is grieving. As you do, I trust that your emptiness will be filled with the very love of God.

Here are some practical ideas for dealing with or blessing others on holidays:
Valentine's Day—host a party for women who don't have a valentine and serve a candlelight dinner, give them a carnation or rose, and watch a fun movie together. Don't forget the chocolate!
Thanksgiving—invite someone who would otherwise be alone to join you—ask them to bring something so they feel they have contributed.
Christmas—invite someone for dinner—give them a wrapped gift—it may be all they receive. Open your heart to them and let God minister His unconditional love through you.
Baby Shower—have a virtual shower for a loved one who is far away or overseas. Invite friends just as if the guest of honor were there, and then visit with them through Skype or I-Chat. Ask friends to give gift cards or buy gifts that can be purchased online and shipped directly to the Mama.
Birthdays or Special Occasions—send a special letter or card expressing your love and appreciation to a loved one you are separated from. Share with them what their relationship has meant to you.
For families with a military member who is deployed:
Spouse—write a synopsis everyday of what has been happening with you and the family so they will feel connected daily. If you can email daily, do it. If not, write everyday and send the compilation once a week.
Have the kids draw pictures or write letters to Dad or Mom weekly to keep the parent in the loop.
On holidays, video tape the day so that the deployed loved one won't feel that they totally missed it. They can view it after they are home. For now, try to see them through skype or i-chat a few minutes. Remember that it is often emotional, so expect that and be prepared if someone gets tearful.

Prayer:

Father, we thank you that you are always welcoming us to come to you. Please help us to extend that same welcome to others, especially those who are lonely.
Psalm 68:6 "God sets the lonely in families…"
Copyright © 2008-2015 Dawn Sheridan Kollar
Read more about the writer: Dawn Sheridan Kollar
---
Post Your Comment...
---