< Back to Kitchen Keeper Recipes
Pumpkin Cheesecake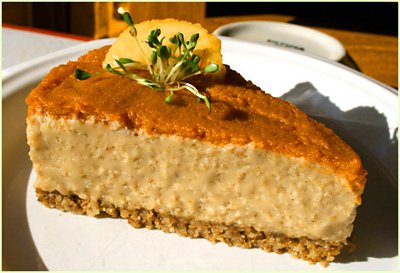 Make sure you have a wonderful, tasty pumpkin cheesecake on your table this thanksgiving.
Crust ingredients:
1 1/4 c. Graham Cracker crumbs
4 T. Unsalted Butter, melted
1/4 c. Sugar
Directions:
Mix together all three ingredients.
Press into spring form pan.
Bake for 10-12 minutes.
Filling Ingredients:
4 (8 oz.) Cream Chees, very soft
1 1/4 c. Sugar
3 T. All-purpose Flour
1 c. Pumpkin Puree, canned
2 T. Pumpkin-pie Spice
1 T. Vanilla
1/2 tsp. Salt
4 Large Eggs, room temperature
Directions:
With an electric mixer, beat cream chees and sugar on low speed until smooth.
Mix in flour (do not over mix).
Add pumpkin puree, pie spice, vanilla and salt.
Pour filling into baked crust and gently smooth top.
Place spring form pan on a cookie sheet before putting in oven.
Bake at 300F for 45 minutes.
Turn off oven and let cheesecake settle for 15 minutes more.
Copyright © 2008-2015 Melinda Henderson
Read more about the writer: Melinda Henderson
---
Post Your Comment...
---