The First Thanksgiving Table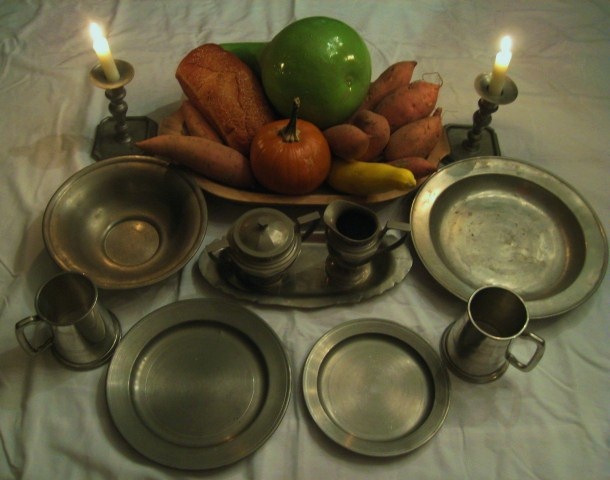 The year was 1621 in Plymouth, Massachusetts. A week's long celebration had begun with prayers and thanksgiving for blessings of abundance. Potatoes, corn, squash, onions, and cabbage were plentiful crops, and with spices that had traveled through their pilgrimage as well, were prepared in simplest form.
These were some of the dishes that graced that history-making table, and it was probably a duck instead of a turkey that made it's debut for the great feast, and was not the main attraction as it is today.

Fine china and lead crystal didn't have its place either! But pewter probably did. Pewter is a metal alloy consisting mainly of tin, with copper, antimony, bismuth, and lead added. It was most common in the 1500's and 1700's. Pewter varies in color from silver to black, depending on the tin/lead ratio. The more lead in a piece, the more oxidation occurs, lending to the darkness of color. This is the color most found in antique pewter. Restrictions of lead in pewter, give way to a much lighter gray that we see in today's pieces.

Pewter is used for display in the home mostly now, and is typical in the country style and colonial style. Grouped together in a china cabinet or set in a plate rack, it has a great impact, and is just what you would expect to see in such a home. In a more modern environment, a collection of pewter could be implemented nicely--its neutral gray color allows for this and i's history can be just the warmth such a space needs.

For your Thanksgiving table this year, add some pieces of pewter to commemorate that first thanksgiving. Mugs and pitchers can be great containers for arrangements, and candlesticks always have their place. Blessings of abundance to you this Thanksgiving!
Copyright © 2008-2015 Kristy Beelendorf
Read more about the writer: Kristy Beelendorf
---
Post Your Comment...
---