Christmas Decorating:Kid-friendly and Christ-centered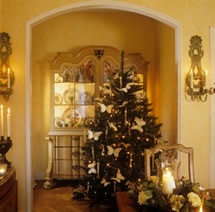 I can remember a time before we had children when I was so concerned with the aesthetics of our Christmas tree. I wanted our tree to look like it came out of a magazine! Even the outside of our house had to "look just right." The Christmas lights on the outside of our house had to be all white, trimmed with greenery and red bows, neat and symmetrical. No multi-colored lights allowed anywhere - not on the tree or the house! And please, no plastic figures or candy canes in the yard. Then, God gave us children.
Purpose
It is funny how God changes things. I was so shallow. First, I had to come to grips with my purpose for the Christmas tree and other decorations. Why do we put up a tree and decorate each year? To keep up with the Jones' next door? To impress guests when they visit? What do I want my children to remember about Christmas when they are grown?
Do I want my children to remember that each year the tree was off-limits because mom and dad's keepsake and collector's ornaments were not to be touched? Do I want to chase around toddlers all day teaching them not to remove the decorations? Those are not the kind of memories I want them to have of Christmas.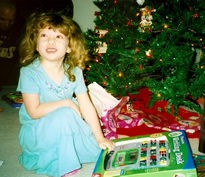 Memories
Our tree is now strung with multi-colored lights that move with whatever Christmas music is playing (yes, the tree plays music through a small speaker on the bottom and the lights move to the rhythm). On top of those lights, we have a string of old Mr. Christmas electric ornaments that also move and light up (inherited from their paternal grandparents who have since passed away). The list of quirky ornaments and trimmings continues from pine cones gathered from our yard to homemade "designer" originals created by my five and two year olds.
But that is only the bottom half...the top half of the tree, which little hands cannot reach, has our keepsake and collector ornaments. Decorating the two distinct halves of our tree are strings of beaded garland (purchased from Walmart) that my daughters thought looked like something a princess would wear. In addition, the girls love to string popcorn and hang it on the tree. So far, our baby boy is too small to add input but next year I am sure there will be something boyish on top of it all too.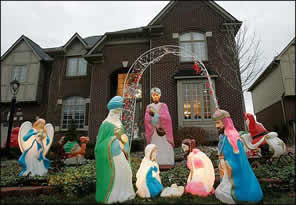 Outside, we have both white and multi-colored lights. We have a set of lighted snowflakes that line the walk each year next to the plastic candy canes and an obnoxious sign of Christmas bulbs in neon lights. Add to this the plastic Joseph, Mary, and baby Jesus and well...you get the picture. And all of the decorations get moved and played with when we are outside. Sometimes Joseph even blows over and the light bulb in Mary blows out. No, we haven't invested in the inflatables yet, I have to draw the line somewhere, I hope.
The kids absolutely love it and the tackier the better. But, we have decided they are only little once. Will we care in 20 years that our neighbors thought our yard was tacky? In 20 years, will I cherish those collector's ornaments or my "designer" originals? When I watch our home videos, will I look for a Martha Stewart Christmas tree or will I laugh at the tree in the background that is blurry from all the moving lights and ornaments?
If you are laughing by now, I'll bet your house looks just as crazy as ours! Here are some additional tips we've found that make Christmas decorating more kid-friendly and Christ-centered: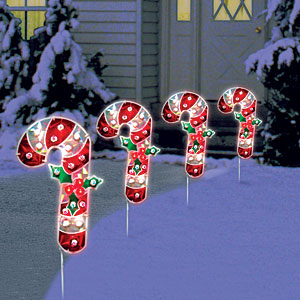 Consider placing any breakable or keepsake ornaments on the top half of the tree where little hands can't reach. Don't put the tree next to a chair or end table where a climber can access them though!
On the bottom half of the tree, place ornaments that are "touchable." Our kids love to "re-trim" the tree by moving their ornaments to new places. We have a set of felt church mice that live part of the time on the tree and part of the time in a box under the tree.
Practice with the little ones how to place the ornaments back on the tree. This takes some training but now our kids feel like the ornaments (usually a church mouse or some other animal) aren't back in their "home" if they are left out on the floor.
Copyright © 2008-2015 Dorena DellaVecchio, Ph.D.
Read more about the writer: Dorena DellaVecchio, Ph.D.
---
Post Your Comment...
---