Train Up a Child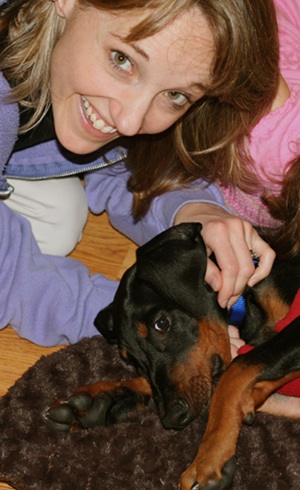 We were on our way to becoming fully certified dog owners. Four-month-old "Ben" was to graduate with his obedience papers and a videotape demonstrating his ability to follow the five commands of puppy boot camp: sit, stay, heel, come, and off. Excitedly, we entered the dog-training center in anticipation of Ben's review. We watched his video, discussed the five commands, and then the trainer turned over the leash.
"Ben. Come!" I said from across the room. That was easy enough. The dog trotted right over. I took the leash and said, "Heel," while I walked quickly around the room. As commanded, the dog remained at my side. But, as puppies and children do, Ben was soon distracted by something. "Heel!" I repeated, uselessly, as Ben led me by his leash to greet a cute brown beagle at the door.
The dog trainer was disgusted with me. "I can't believe what I'm seeing," she said in a deadpan voice. "You are letting the dog be your master. It's supposed to be the other way around. Never let him stray without a consequence."
I smiled sheepishly. "This is just dog obedience," I thought, "not some military operation. Does this somehow represent a mark against my parenting abilities?" But the trainer was absolutely right in terms of proper dog handling. Animals require stalwart consistency, simple commands, and predictable consequences from their master in order to behave. Anything else breeds confusion. If someone had videotaped this training exercise, it would have revealed I was on the wrong end of the leash!
Wouldn't parenting be easier if kids simply attended obedience school and came out shiny and compliant, complete with an instruction manual? "Here are your Ten Commandments from God. Don't break any of them, or you will be sorry!" The Bible does make it simple, but how many of us are glad not to have videotape catching every parenting mistake we make as we try to maintain discipline? While kids do need consistency as animals do, they require special handling with our Lord's unique directive – mercy.
Clearly, eating chocolate ice cream on a white sofa requires the "off!" command. But children have a much deeper emotional and spiritual vocabulary that requires both consistency and gentleness in more complex life situations. We must pray for wisdom to discern the balance between justice and mercy.
I hear people say training dogs and training children are pretty much the same thing, but I beg to differ. Because God demands perfection, Christ died to take the punishment for our inevitable mistakes. I am discovering that the secret to raising God-fearing children lies in the mystery of God's grace.
"Train up a child in the way he should go, And when he is old he will not depart from it" Proverbs 22:6 (NKJV).
Copyright © 2008-2015 Julie Strohkorb
Read more about the writer: Julie Strohkorb
---
Post Your Comment...
---