< Back to Kitchen Keeper Recipes
Spinach and Artichokes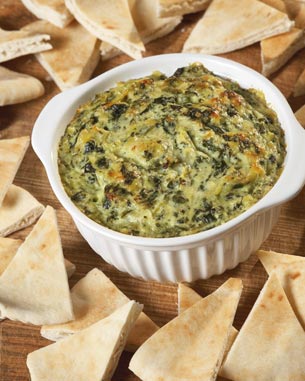 If you're looking for a new side dish to serve at your holiday table, try this delicious recipe!
Ingredients:
12 ounces cream cheese, softened
4 (10-ounce) packages frozen chopped spinach, thawed and drained
1/2 cup butter, melted
3 T lemon juice
1/2 t. salt
1/2 t. pepper
1/2 t. seasoning salt
1/2 t. ground nutmeg
1 (8-oz) cans sliced water chestnuts, drained
2 (14- oz ounce) cans artichoke hearts, drained and quartered
1/2 cup grated Parmesan cheese
Directions:
Grease a 3-quart casserole dish, in bowl, with mixer at medium speed, beat cream cheese until smooth, Reduce sped to low, beat in spinach, butter, lemon juice, salt, pepper, seasoning salt, and nutmeg until thoroughly combined. Stir in water chestnuts. arrange artichokes on bottom of baking dish. Pour spinach mixture over artichokes. Cover with foil. Cut several slits in the foil to vent. Bake in a preheated 350 degree oven for 30 minutes. Uncover and sprinkle top with Parmesan cheese. Bake until golden brown about 15 minutes more. Serves 12
Copyright © 2008-2015 DeeDee MacDonald
Read more about the writer: DeeDee MacDonald
---
Post Your Comment...
---