A Master Chef in the Making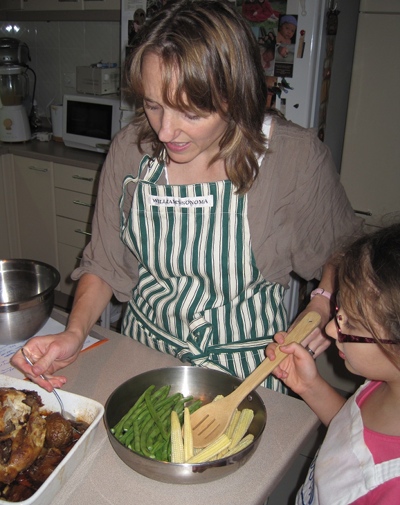 My eight year old cooked dinner tonight. Things sure are looking up since the days of diapers and dinner drama, when we were so busy feeding others that we either forgot to eat or ate it cold. Tonight, she planned it, cooked it, and cleaned it up – i.e. she's growing up.
My perspective on cooking is growing, too. I used to think of kitchen duty as a type of sentence or punishment, where hours of labor were swallowed in minutes only to start the entire process over again for the next meal. But now, as I cook daily for others, I appreciate the labor of love and the importance of passing on cooking skills that create independence and fond memories. My culinary transformation started the year my daughter helped me design an astronaut birthday cake. As we worked together, and compromised on our likes and dislikes, we made a wonderful memory as mother and daughter. We also learned to balance the glamorous jobs like stirring and icing with the not-so-glamorous jobs like clean-up.
Times in the kitchen with a parent are some of the most valuable training moments for kids. Sure, there may be some double-dipping, crazy combinations, or even a broken dish or two, but the smile on my child's face when she presents a meal are worth it all. Not to mention the life lessons of patience, following directions, putting others first, and finishing what you start. And that's just the appetizer.
Challenge your own junior master chef to surprise you with dinner tonight. My daughter created the following recipe for a cooking competition at school, and she tried it on our family beforehand. We heartily approve!
Tomato Veggie Soup
1 potato (par-boiled)
1 stalk celery
1 can tomato juice
½ cup lima beans
½ cup peas
1 can chili beans
1 teaspoon garlic powder
salt and pepper (to taste)
cream cheese for garnish
Directions:
Boil the potato in a small pot until half-cooked.
Meanwhile, pour tomato juice in a large pot and cook over medium heat.
Chop the par-boiled potato and celery, adding them to the large tomato stock to simmer for 10 minutes.
Add fresh or frozen lima beans and peas, and continue cooking another 10 minutes.
Finally, add the canned chili beans and cook gently so they will not fall apart.
Add garlic, salt, and pepper to taste.
Serve topped with cream cheese for a warm autumn meal.
Copyright © 2008-2015 Julie Strohkorb
Read more about the writer: Julie Strohkorb
---
Reader Comments...
2011-10-07 17:38:39
"Abigail, that sounds delicious!! Can't wait to try out your recipe!!!!!!!!!!!! Julie, that is a wonderful article!!!!!!! I loved it!!!!!!!!!!!"
- Aleta
2011-10-07 08:10:01
"Thanks for sharing! I have two granddaughters ages 4&6. They love cooking and assisting with prep. This activity has been wonderful for all of us. Sandra, Patsy Marrs Wilson's sister"
- sandra marrs
2011-10-06 13:35:56
"What a great article! The soup sounds good so, now that's soup weather in VA, I'll be trying it soon. What wonderful mother-daughter relationships such an activity fosters. "
- Nancy
---
Post Your Comment...
---