Max's Testimony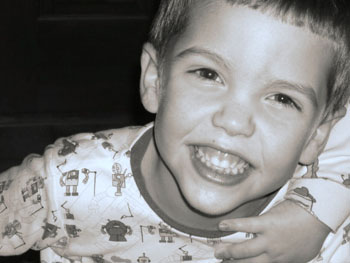 One night a few weeks ago, after we put our son, Max, in bed, he came down a couple of hours later. Eyes wide open and bright blue and his face had a peace I had never seen. (Not that he is a stressed out kid...but a different look).

He told us that he had been talking to God since he had gone to bed. He said that God had told him that he was going to be a David of his generation and slay Goliaths. Max told us he realized that he would never be slaying giants, well...not the kind we think of, big and hairy, but he would encounter his own giants by way of fear and weakness.
He said God told him to rely on Him when he felt scared. God would always speak to his heart. He then said that God had shared with him the songs of angels. He began speaking/singing to Rick and I in tongues. He was filled with the Spirit. Praise Jesus! He said God told him that he needed to reach all generations; it is our obligation preach the good news; we must not stop until every generation in every nation knows Jesus. We have a mission to spread the good news.
Max said that the Lord was calling him to spread the good news from church to church starting with our church. He asked if he could share a word with the congregation. I asked him if he would be scared to speak in front of so many and he replied, "They aren't my words mom, they are God's."
Our sweet six-year-old-spent the next three days asking if we had spoken to the Pastor. We hadn't. My husband had left a message, but by Sunday morning we still had not heard from him. Max insisted that he would deliver the Lord's word that morning in front of little more than 400 people. We used this moment as a teachable one, and encouraged Max to "wait on the Lord." We knew his time with the Lord was true and pure, but maybe it wasn't the right time for a young boy to speak in front of such a large crowd.
We arrived in the sanctuary for worship. As we were praising the Lord. The three of us; Max, Rick and I saw our Pastor walk in. Max headed directly to him. Fortunately Rick was right behind him. They met with Pastor Nate and Max told him of the encounter he had had with the Lord. Nate agreed that Max should share this word.
He marched up on stage with mic in hand. I stood motionless and breathless and oh so very prayerful in the balcony. Rick was sitting on the steps as encouragement. He had been given strict orders from Max that this was between him and the Lord and he didn't need his dad to stand on stage with him.
Max took five deep, long breaths…it seemed like an eternity. He started to speak. He told the church that the Lord is coming and He will always protect us. He spoke until he was done. He offered the word the Lord had so tenderly placed on his heart only nights before. "That's it, I'm done now." The sanctuary lit up like a Christmas star. The entire congregation was on its feet, praising Jesus. We were all in the arms of the Lord. We were lead there by a little child.
"The wolf will live with the lamb, the leopard will lie down with the goat, the calf and the lion and the yearling together; and a little child will lead them." Isaiah 11:6 (NIV)
I think we miss the point some Sundays. We participate in corporate worship…which is a blessing. But, far too often we are embroiled in the "law" and not the grace of Jesus. It is through Him we receive salvation. It is through His blood we are redeemed. On Sunday, September 4th, we were lead by a child to remember the meaning of the cross.
I have been asked if I feel like Hannah, the mother of the prophet, Samuel. That tickled me that someone would feel that way about Max sharing his testimony. No, I don't. I feel humbled. I feel like if my child can be that obedient to the Lord…why can't I?
Copyright © 2008-2015 Samantha Ewing
Read more about the writer: Samantha Ewing
---
Reader Comments...
2011-10-04 22:01:49
"Max will be a David, because God is true to His Word! thank you for sharing this wonderful testimony.... "
- Rickee
---
Post Your Comment...
---