The Beauty of Finding a Home Church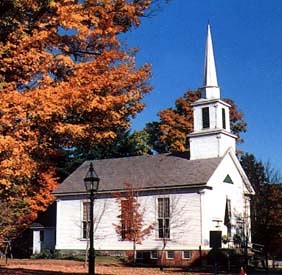 I have a friend who says finding a church is similar to finding a good pair of shoes, and just as it may take several trips to different shoe stores to find a good fit, so may it take several visits to one or many churches. Do not lose heart. The Lord holds you in His hands. If you are in a season of change, I offer to you my own search.
My husband and I were raised in very different Christian denominations. We were married in "his" church, and our son was baptized in "his" church. But we have never felt that "his" church (the one he grew up in) was "our" church. Together we agreed that it was our responsibility as husband and wife and parents to find "our" church.
Then Ellie's daughter was to be married and Ellie asked me to arrange the flowers for the wedding. I would do this at the church; the church Ellie had so graciously invited me to on so many occasions. The day came, a Friday, the day Mary was to be married.
I walked through the front doors and felt something I had never felt before in any church, ever. I felt an overwhelming sense of LOVE. Here's the amazing part. . . NO ONE was there to greet me. I stood alone in the narthex of this church feeling a warmth that could only be explained as the presence of the Holy Spirit. I had met God…I had found my church home!
We have since then made ourselves at home there and have wondered why we didn't find a church home long before.
If you are feeling the way I did, I encourage you to seek— seek His presence as you walk through the doors of new churches, when you feel the presence of the Holy Spirit, you will know you are home.
The scriptures shed insight on this most delightful way to celebrate the Lord's day—in His house.
"How lovely is your dwelling place, O Lord Almighty! My soul yearns, even faints, for the courts of the Lord; my heart and my flesh cry out for the living God. Even the sparrow has found a home, and the swallow a nest for herself, where she may have her young-a place near your altar, O Lord Almighty, my King and my God. Blessed are those who dwell in your house; they are ever praising you," Psalm 84:1-4.
Copyright © 2008-2015 Samantha Ewing
Read more about the writer: Samantha Ewing
---
Post Your Comment...
---