Fight for Family Meal Time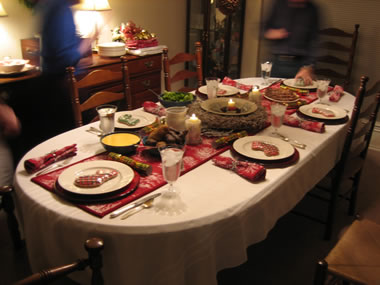 The fragmentation of family meal time, simply put, is hurting our children. The family dinner table is where we not only share the labor of our hands with delicious food and drink, but it's where our values are established. The dinner table should be a place where the events of the day can be discussed in a relaxed, safe environment.
As a mother, I find cooking for my family a joy, knowing that I have a set time where my whole family will be together. If Brad and I allowed our children to eat dinner as they come and go according to their personal schedule, I would have very little inspiration to prepare a meal.
The National Center on Addiction and Substance Abuse at Columbia University finds that teens who have dinner with the parents three or fewer times per week are four times more likely to smoke, twice as likely to drink, two and a half times more likely to smoke marijuana, and four times as likely to say they will use drugs in the future.
Also, 27 percent of twelve to fourteen year olds who do not have regular family dinners say they think about suicide. Among seventeen to nineteen year olds, 68 percent that do not have regular family meal times have had premarital sex.
A family who prioritizes the family meal time speaks VALUE over their children. When I take the time to prepare a nice meal and a yummy dessert, my children cannot wait for dinner and the time we spend talking about the day around the table. They feel valued . . . even if it is just a simple menu. Being together is the goal. (As a note of encouragement, if you are not much of a cook, a simple meal of spaghetti and meatballs is delightful to a group of hungry tummies!)
I know you are busy. We are, too! We juggle ballet and music lessons (including the ones my husband teaches!). Examine your schedule and fight for/be relentless about scheduling meal time, even if it's at 7:00 or 8:00 p.m. or later! I trust that if you start with just one family meal time a week, you'll come to love it . . . and one night will turn into two, then three, then before you know it, family meal time will become contagious! You will find that all those "activities" that interrupt family meal time will not be worth it any more. They will pale in comparison to the joy of eating together.
One last thought . . . do you realize why the Thanksgiving dinner is so special? Because for many families it may be one of the few times that they actually eat together all year! Resolve to have the joy of eating together throughout the year, and you'll be blessed in ways you cannot yet imagine!
"Blessed is the man who fears the Lord, all who follow His ways. You will enjoy the fruit of your labor. How happy you will be! How rich your life! Your wife will be like a fruitful vine, flourishing within your home. And look at all those children! There they sit around your table as vigorous and healthy as young olive trees. That is the Lord's reward for those who fear Him" Psalm 128:1-4 (NKJV).
Here are a couple simple recipes to get you started experiencing family meal time!!
Apple Chicken Stew (Slow Cooker)
Ingredients:
16 oz bag baby carrots
1 onion, chopped
6 granny smith apples, chopped
6-8 boneless chicken breasts
Dash salt
Dash pepper
½ tsp rosemary
4 cups apple cider
1 can chicken broth
Directions:
Place all the ingredients in a slow cooker in this order.
Cook on LOW for eight hours.
Serve over rice!
Other simple/fast meals:
6-8 cans of Tomato Soup in your slow cooker on warm all day . . . serve with grilled cheese sandwiches and a tossed salad!
Buy a bag of frozen ravioli, boil it according to the package directions, drain and toss with your favorite spaghetti sauce, and place it in a slow cooker on warm or low all day. Serve with bread and a tossed salad!
Slow Cooker Italian Chicken
Ingredients:
16 oz bag baby carrots
6-8 boneless chicken breasts
1 bottle Paul Newman's Italian Dressing
1 cup Parmesan shredded cheese
Directions:
Layer the above ingredients (except the cheese) in your slow cooker.
Cook on LOW for 4-6 hours.
Sprinkle cheese on top the last hour.
Serve over rice and with a tossed salad! (We like tossed salads! Lots of healthy, raw vegetables!!)
Copyright © 2008-2015 Alyson Shedd
Read more about the writer: Alyson Shedd
---
Post Your Comment...
---