Say Goodbye to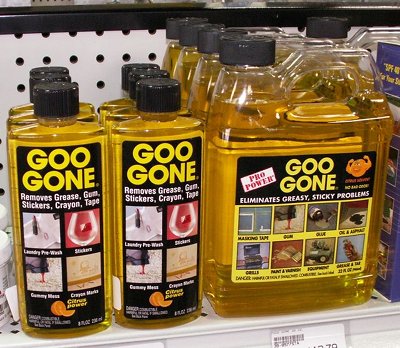 For years, my husband has used a little product called "Goo Gone." He says nothing else is like it for removing sticky messes.
With children who can create unwanted messes, we use it for removing stickers from windows and mirrors and gum from shoes. I remember one time, when we had a whole pack of "Toy Story" stickers stuck to the inside windows of our mini-van—the kids loved it, but it wasn't so great for us parents. Merely trying to peel the stickers off didn't work, so we used the "Goo-Gone," and it removed all the sticky residue so that it wiped cleaned.
I've also used it for photo frames that have price stickers attached—and they are easily removed with a little "Goo Gone."
"Goo Gone" is good for removing, tape, masking tape, stickers, gum, glue, oil and asphalt, paint and varnish, and crayon marks off most surfaces. It can also clean grills.
So, the next time, you're in a "sticky-gooey mess" try this little handy product to see if it works for you!
Copyright © 2008-2015 Debbie Reynolds Harper
Read more about the writer: Debbie Reynolds Harper
---
Post Your Comment...
---