< Back to Strength for Your Spirit
The Soul-Soaking Prayer, Part II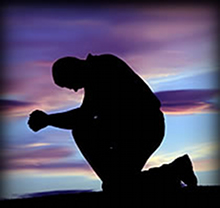 The un-renewed, undelivered soul wars against truth. It thinks it is right and will not listen. Saul (later known as Paul) was an example of this before his encounter with Christ. He was totally convinced that acts of killing and persecuting the saints was noble. This also shows that the soul uses personal heritage, culture, family values, life experiences, and presuppositions to judge with, whether right or wrong.
Soaking Music, hearing, and study of the word changes the mood and direction of the soul, so that we can commune with the love of God and make righteous decisions. Try this activation. Listen to two or three different types of music and pay attention to your changing . Are you feeling more joyful, solemn, etc?
Now listen to soaking music and feel the soul quiet down and rest. It is during this time that the Lord has our attention and concerns or questions can be answered. As your soul rests and stops warring with the anointed one, like Jacob did, rivers of living water are released from Christ in you.
If there are sin issues such as rejection, forgiveness or family curses that need to be dealt with, capture that thought and drag it to Christ inside of you. Wait and allow Christ, the King of Glory to destroy the yolk written in Luke 4:18-19 (NKJV):
The Spirit of the LORD is upon Me, Because He has anointed Me to preach the gospel to the poor He has sent Me to heal the brokenhearted, to proclaim liberty to the captives. And recovery of sight to the blind, To set at liberty those who are oppressed; To proclaim the acceptable year of the LORD.
These are soul attributes; broken heartedness, spiritual darkness, the lack of understanding, oppression and strongholds. Don't rush through this process; remember the enemy wants to keep us bound. Also, if the thought tries to come back, decree verbally, "that's not me". It is the enemy trying to make you feel deliverance has not taken place. Stand your ground! Submit to God, resist the devil and he will flee according to James 4:6-7.
"But he gives us more grace. That is why Scripture says: 'God opposes the proud, but shows favor to the humble.' Submit yourselves, then, to God. Resist the devil, and he will flee from you" (NIV).
According to 2Corinthians 10:5, this process is not passive.
"The weapons we fight with are not the weapons of the world. On the contrary, they have divine power to demolish strongholds. We demolish arguments and every pretension that sets itself up against the knowledge of God, and we take captive every thought to make it obedient to Christ. And we will be ready to punish every act of disobedience, once your obedience is complete" (NIV).
The terms used in verses four, five and six are militant; pull down, casting down, whatever is trying to kill you, capture it, punish, all anti-Christ acts and ideas, then bring it to Jesus Christ so that He can demolish it forever. I am thankful today that our Lord is teaching us to sensitize our souls to Christ that we can become the Glorious church without spot or wrinkle. Continue to soak and be restored.
Copyright © 2008-2015 Heather Kinchlow
Read more about the writer: Heather Kinchlow
---
Post Your Comment...
---