< Back to Strength for Your Spirit
The Garments of the Kingdom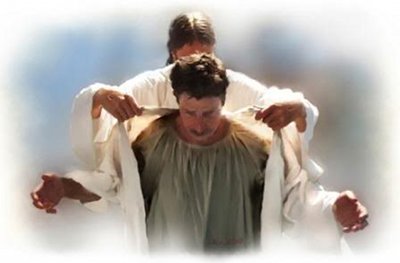 "To appoint unto them that mourn in Zion,…the oil of joy for mourning, the garment of praise for the spirit of heaviness;…"
Isaiah 61:3 KJV
"Put on then, as God's chosen ones, holy and beloved, compassion, kindness, humility, meekness, and patience, bearing with one another and, if one has a complaint against another, forgiving each other;…And above all these put on love…"
Colossians 3:12-14a ESB
Over the holidays, you may have received articles of clothing from those you love. Whether it was a hat, a scarf, boots, a sweater or a dress, you probably wear it with joy, knowing that it was a gift from someone who loves and appreciates you Even if it isn't the perfect color or right size, you may still cherish it simply because it was a thoughtful gift.
There are garments that God out of His love for us has made available to us, as well. It delights His heart when we wear them. You cannot find them at Macy's, Penny's or Belks. They will not be modeled at any fashion show. You can't even get it through on-line shopping. Best of all, you don't even have to pay for them. They have already been purchased for you.
They will never have to be washed or dry cleaned and they will never wear out. You can't even outgrow them. Their colors never fade but rather, the more you wear them the brighter their colors become. Last but not least, because of their eternal origin, they are the only clothing that actually go with us into eternity. They are the garments of the Kingdom. Hopefully you will be stirred to make them your daily adornment.
The Garments
In 1 Peter 2:9, we are told that those of us who place our faith in Christ for salvation are a "Royal Priesthood." Priests of the Old Testament were directed by God to wear special garments that were distinctive from others in the congregation (Exodus 39). They were set apart from all others to represent the people as they ministered to God.
Their garments were costly garments made of fine linen and other fine materials of blue, purple and scarlet. These beautiful royal garments were made for them and given to them without cost. All they had to do was wear them as they performed their duties before God. God ordained their existence and ordered the clothing that would be fitting for those who would appear before the Most Holy God.
Like the priests of old, God has also provided us with garments fitting for our entrance into His presence and for the work He has ordained us to do. There are several of these garments mentioned in Scripture, three of which are the garments are praise, compassion, and humilityIn Isaiah 61:3 ( NKJV), it is prophesied that the Messiah would provide a "garment of praise for the spirit of heaviness." Jesus confirmed His fulfillment of that passage as recorded in Luke 4:18-19.
The reality of the provision of this garment is revealed in the Apostle Paul's admonition for believers to "Rejoice in the Lord always; again I will say rejoice." (Philippians 4:4 NASB) One who has a rejoicing heart is one who can endure the challenges and trials of life and run the race of life with patience. (Philippians 4:5; James 1:2-4). Nehemiah 8:10 states, that the "joy of the Lord" is our strength. If you are tired and weary, put on the garment of praise. Join the Psalmist in Psalms 34:1 and declare as an act of your will, "I will bless the LORD at all times. His praise shall continually be in my mouth."
The next garment is that of compassion. In Colossians 3:12 NASB, among other qualities, Paul admonishes believers to put on a heart of compassion. The NKJV translates it as "tender mercies." It is to have concern and empathy towards others. In the Gospels, we see that Jesus healed and taught many out of a heart "moved" with compassion (Matthew 9:36; Matthew 18:27; Mark 6:34;). To put it another way, Jesus' power flowed out of His compassion.
Likewise, when we heed the admonition to put on a heart of compassion, we become candidates for the flow of God's power to others. Compassionate people are powerful people. It is also one of the first things God says about Himself when He reveals His nature to Moses in Exodus 34:5-7. Compassion flows from the very nature of God Himself. This quality comes easier for some than for others. I am a very objective person so I had to ask God to give me compassion and yield myself to it. He has been faithful to do it.
The third garment is humility. One of the other qualities that Colossians 3:12 admonishes us to "put on" is humility. This quality is best seen in Christ Himself as recorded in Philippians 2:5-8. There it says Christ having been equal with God "made Himself of no reputation, taking the form of a bondservant, and coming in the likeness of men….He humbled Himself and became obedient to the point of death, even the death of the cross."(Philippians 2:7-8 NKJV) Here we see elements of true humility.
Humility is not saying, "I am nothing." It is recognizing who you are in all your gifts, talents, abilities and even positions of influence and being able to lay aside any desire for accolades for the sake of serving and edifying others. It's a sense of knowing every good thing in you is from God and for His service. It's a willingness to take a lower place so that God may be glorified and others may be edified. It's not having to prove yourself right in the sight of others and not having to have the last word. It is having the mindset of a servant even when others treat you that way. It is having the mind of Christ. It is the exact opposite of pride. Those who clothe themselves in humility God gives grace to endure and He Himself exalts them at the time of His choosing (James 4:6). It is also the place from which we have victory over our adversary, the devil (James 4:7). It is not a place of weakness, but a place of strength.
The Source
Each of these qualities flows out of the new nature that God has made available to us through Christ. Before Paul in Colossians admonishes believers to "put on" these qualities, he reminds us that we have to put away the "old self" (Colossians 3:9,10 NASB). A similar reference is found in 2 Corinthians 5:17 (NASB), "If any man is in Christ, he is a new creature; the old things passed away; behold, new things have come."
In addition, Galatians 2:20 (NASB) states, "I have been crucified with Christ; and it is no longer I who live, but Christ lives in me…" Christ lives in us by means of the Holy Spirit who comes to dwell in us at the time of salvation. So, as we yield to the Holy Spirit within us the garments of the Kingdom will be manifested (Galatians 5:16, 22,23).
2 Peter 1:3 also states that God has granted us everything we need in regards to life and godliness. He has given us everything we need to fulfill our priestly duties before God, but like the priests of old we have to embrace them ("put them on") as one would a garment. It has nothing to do with how we feel but it has everything to do with simple obedience and submission to God. It is an act of faith that brings purity to our worship, our giving and our service. As God said to King Saul through the prophet Samuel, "obedience is greater than sacrifice." So, lay aside sorrow and put on the garment of praise. Lay aside indifference and put on compassion. Lay aside pride and put on humility and by the Spirit of God daily wear the garments of the Kingdom.
Let's pray.
Prayer:
"Father, I love You. I thank You for granting me the privilege of being a priest before Your throne. I thank You for the access into Your presence that I have through Christ. Thank You for giving me everything I need for life and godliness. I lay aside my own rights, as Jesus did and yield myself to your Holy Spirit as I clothed myself with the Kingdom garments of praise, compassion and humility. In Jesus' name, Amen."
Copyright © 2008-2015 Shermaine Jones
Read more about the writer: Shermaine Jones
---
Reader Comments...
2012-03-01 23:28:29
"Oh wow!! Shermaine, this is the best teaching I have ever heard/read on this. Awesome picture to illustrate the article also. Shermaine, this will preach. Thank you so much for sharing it - you made it simple and took the lofty theology out of it. I love the examples and imagery. I really got it this time and it didn't seem beyond me. I never got the whole "put on the garment" phrase until now! Blessings!! "
- Dorena
---
Post Your Comment...
---