A Valentine's Day Delight
Put some extra love into your breakfast on February 14 with a little food coloring and a steady hand to pour heart-shaped pancakes. Using your favorite pancake recipe, add a few drops of red into the batter just before cooking to create beautiful shades of pink.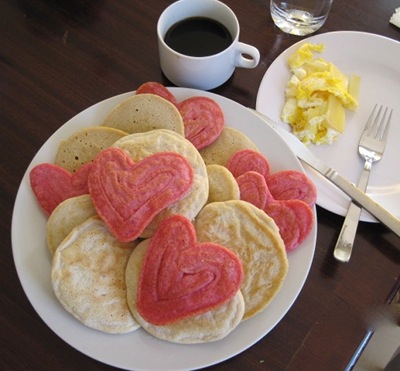 Remember to balance the amount of liquid you add with a bit more flour, so your batter will not be runny. With a steady hand and a mixing bowl with a good pouring spout, "draw" your pancakes onto the hot griddle as heart shapes. Flip as you normally do, but pay close attention not to overcook. No one likes a heart getting burned by neglect.
Then, serve with other special sweet treats for the occasion – whipped cream, chocolate kisses, or whatever suits your fancy!
Copyright © 2008-2015 Julie Strohkorb
Read more about the writer: Julie Strohkorb
---
Post Your Comment...
---