The Myth of Multi-Tasking
I recently saw a little sign at a Hallmark store stating, "Multi-tasking is the art of messing everything up . . . all at once!" I chuckled to myself because I fully admit that I cannot multi-task!
When I first became a mother almost fifteen years ago, I found myself drowning in a sea of motherly advisers. Whether or not to demand-feed or schedule-feed an infant paled in comparison to the numerous articles on how "Every mom is (or should be) a natural multi-tasker." I assumed this meant that if I could not tackle five activities, projects, or even thoughts all at once, I must be a failure as a mother or even just a woman.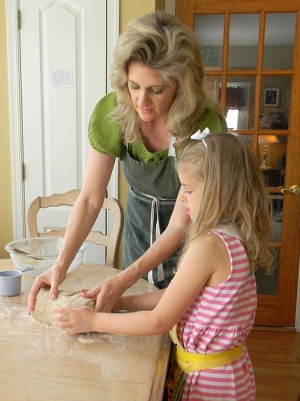 So in my pursuit to be the queen of multi-tasking, I purposed each day to be able to nurse my baby (while standing!), stir the spaghetti sauce over the stove, and still hold a conversation over the telephone with my mother! I determined to prove to the world that I was "Super Mom" and could "do it all" all at once!
I continued with this same mindset for my next two babies, wearing myself out completely by nursing an infant, teaching ABC's and 123's, reading Dr. Seuss books, filing my nails, and being up half the night working on research papers toward my Master's degree. I prided myself in my strong constitution and the ability to be able to do more "all at once" than my friends whom I deemed "weaker."
Well, the Lord in His perfect timing and way, blessed me with my fourth baby, and the daunting realization that my "multi-tasking" manner was costing my little Ava her health. She was failing to thrive on all fronts. My milk could not sustain her. It takes calories to produce nourishing, life-sustaining milk and I was using my energy on other things. She was losing weight at each well-baby check rather than gaining. She could not sit up until she was almost one and did not walk until she was 19 months. Thankfully, today she is a healthy, strong eight-year-old, in spite of my inability to multi-task while she was a baby.
Joyce Meyer wrote an article that also helped me on my journey away from this multi-tasking myth. She stated that her projects, plans, or even thoughts were more successful when she focused on one task at a time. (Of course, if I need to attend to a hurting child, then I drop what I am doing to meet the urgent need!)
But, for example, if one of the children seems to think he/she needs me RIGHT AWAY, I now simply tell them that unless it is an emergency, I will attend to them as soon as I finish the thought (i.e. the grocery list), activity (i.e. reading a book to my three-year-old), or project (i.e. fixing dinner) at hand.
Now that I no longer try to multi-task my day into a chaotic, confused mess, I finish my days having checked off my reasonable list (for a mother of eight children) and rest in the Lord's faithfulness with this verse:
"Lord, my heart is not haughty, nor my eyes lofty. Neither do I concern myself with great matters, nor with things too profound for me. Surely I have calmed and quieted my soul, like a weaned child with his mother; like a weaned child is my soul within me." Psalm 131:1-2 (NKJV)
May the Lord set you free as well to accomplish what He has planned for you . . . one task at a time!
Copyright © 2008-2015 Alyson Shedd
Read more about the writer: Alyson Shedd
---
Reader Comments...
2012-02-02 22:34:18
"I just started following this online magazine! Alyson, this was very well written and so true. Thanks for sharing an important message! Jill"
- Jill
---
Post Your Comment...
---