< Back to Kitchen Keeper Recipes
Slow Cooker Beef Stroganoff
I love Beef Stroganoff, but through the years I've failed to find and prepare a recipe that tastes like the restaurants.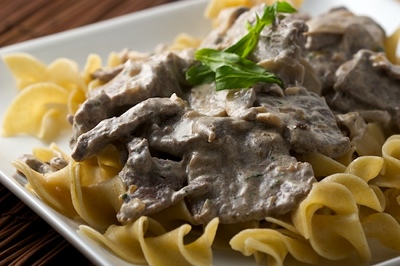 This recipe was a hit with my family, and it only took about 20-25 minutes to prepare. I hope you like it this "wintry season."
Ingredients:
4-6 lb angus beef round steaks
1 cup flour
½ tsp. pepper
4 onions, chopped
4-6 cloves garlic, minced
8 oz pkg. mushrooms, chopped
1 (32 oz) box of beef broth
½ bottle red wine
16 oz. sour cream
2 boxes egg noodles
Directions:
Saute onions, garlic, mushrooms in butter, then set aside.
Trim the excess fat from the beef, and then cut into strips or cubes.
Combine flour, salt, pepper, then coat the beef strips in the flour mixture.
Then pan sear only the coated beef strips or cubes in the buttery mixture from step one (over low/medium heat).
Then place all the ingredients (except the sour cream) in your slow cooker on low for eight hours.
Before serving, stir in the sour cream.
Serve over egg noodles or rice.
Copyright © 2008-2015 Alyson Shedd
Read more about the writer: Alyson Shedd
---
Post Your Comment...
---