< Back to Kitchen Keeper Recipes
Carolina Chili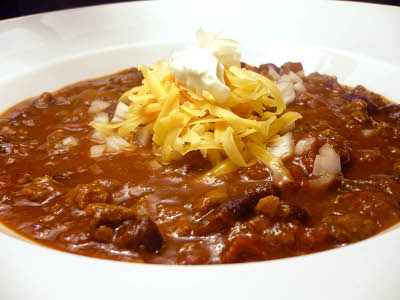 After a trip to South Carolina and a taste of Southern Hospitality, we were looking for a great taste-of-home recipe to share with friends. This chili is it! It's also great as a topping on hot dogs.
From Desperation Entertaining! By Beverly Mills and Alicia Ross
Makes 1 quart
Ingredients:
1 ¼ pounds extra-lean ground beef (use extra-lean ground beef to avoid greasy chili)
½ cup ketchup
1 tablespoon chili powder
2 teaspoons Worcestershire sauce
1 teaspoon cider vinegar or distilled white vinegar
1 teaspoon salt
1 large onion (about 1 cup chopped)
1 (6oz.) can tomato paste
¼ teaspoon black pepper (optional)
Directions:
Place the beef and 2 cups of water in a 4 ½ -quart Dutch oven or soup pot over high heat. Bring the water to a boil while peeling and coarsely chopping the onion.
Add the chopped onion to the beef. When the water boils, reduce the heat to medium. Stir to begin breaking up the meat.
Add the tomato paste, ketchup, chili powder, Worcestershire sauce, vinegar, salt and pepper, if using. Stir well until the tomato paste has dissolved and the meat is mostly broken up.
Continue to cook the chili at a slow boil, stirring about every 5 minutes of so, until the mixture is thick, about 15 minutes. As the mixture thickens, you may need to reduce the heat to medium–low or low to prevent sticking.
Then serve up with a topping of cheese or use on top of some hot dogs for a lunchtime treat!
Copyright © 2008-2015 DeeDee MacDonald
Read more about the writer: DeeDee MacDonald
---
Post Your Comment...
---