< Back to Kitchen Keeper Recipes
Broccoli Slaw with Honey Balsamic Dressing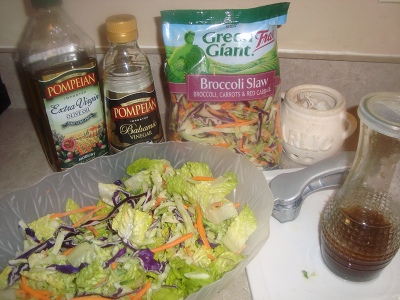 Credit goes to my friend, Debbie, on this idea. She introduced me to broccoli slaw. This really adds texture to a plain salad and is right in your grocery store near the lettuce. Just clean and cut your lettuce and toss in the broccoli slaw.
On this salad, I used my homemade salad dressing which added a nice zing to a normal dinner salad. This is a refreshing dressing with a sweet kick. I had to get creative when my husband was diagnosed with celiac disease and we began buying gluten free dressings. This one is a hit! Best of all, the ingredients are inexpensive, easy to find, and take less than 10 minutes to put together. Each time I serve it, my guests request the recipe.
Honey – Balsamic salad dressing
¾ cup Olive oil
¼ cup Balsamic vinegar
2 Tablespoons of honey (or more to taste)
Garlic clove (fresh pressed) or equivalent of fresh minced garlic
Dash of salt and pepper
Enjoy!
Copyright © 2008-2015 Dorena DellaVecchio, Ph.D.
Read more about the writer: Dorena DellaVecchio, Ph.D.
---
Post Your Comment...
---