The Fruits of Love
I truly love when my children outshine my parenting efforts. When we see our children mimicking us, it is a blessing from God and a reason to praise the Lord. That's what happened this year on my Valentine's Day.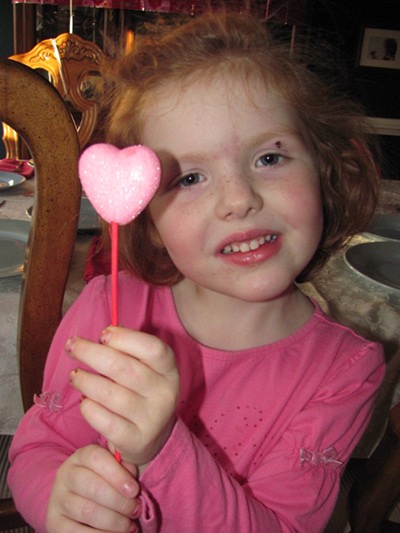 This year my husband and I have committed to not spending money on unnecessary purchases. As we try to be prudent and steadfast, we are often tested in our resolve to follow through on our promise to the Lord and ourselves. Usually, celebrations and gifts are our temptation to splurge. I've learned to love when my husband goes to the store because it keeps me from being tempted to spend!
So, my husband Rick went to the dollar store and purchased a box of chocolate for each child and a few decorations for our "Valentine's Day Ball." We decided that the next day while Rick was at work, the kids and I would decorate the dining room for our ball—our grand Valentine's celebration.
I encouraged our kids, Max and Caroline, to make thoughtful homemade Valentines for their daddy. Max obliged and within a few minute was finished. Caroline spent nearly an hour cutting and gluing and marker-ing.
When Rick came home we quickly prepared for what he and I had planned for the perfect Valentine's Day. Our daughter Caroline had other plans.
She had covertly set up a scavenger hunt to lead us to the gifts she had lovingly crafted. This was a God moment, one hundred percent!
Recently, Caroline has been plagued with thoughts of inadequacy. She is four and we have been praying the Fruit of the Spirit over our family, but it seemed as if the Enemy was determined to thwart the seeds of righteousness we had been planting in Caroline's heart.
As we ended our scavenger hunt, the Lord gave us a perfect, teachable moment. We praised Caroline for her Kindness, Gentleness, Love, Patience, and Goodness. God is good. Our little girl stood taller. Her face grew brighter as she basked in the gifts of the Spirit. Praise Jesus. It is truly humbling when you see the face of God in the eyes of your children.
"But the Fruit of the Spirit is love, joy, peace, patience, kindness, goodness, faithfulness, gentleness and self-control." Galatians 5:23 NIV
Copyright © 2008-2015 Samantha Ewing
Read more about the writer: Samantha Ewing
---
Post Your Comment...
---