< Back to Kitchen Keeper Recipes
Not Your Normal Egg Salad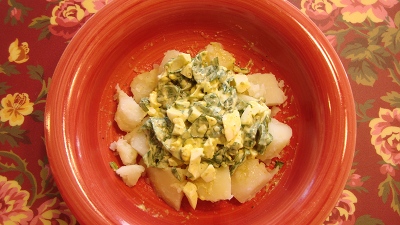 This is a great lunch option for Spring-time. I got tired of regular egg-salad one day and came up with this. Of course, this recipe is one-serving. My kids weren't fond of the spinach!
Ingredients:
2 boiled eggs – use two whites and only one yolk
1-2 Tbs. of mayonnaise (depending on your taste and how creamy you want it)
1 tsp. mustard
1 tsp. pesto
Handful of raw chopped spinach (about one cup)
1 Tbs. crumbled feta cheese
I used an inexpensive traditional Basil pesto from the grocery store, the Classico brand. There are "gourmet" versions if you want to pay the higher price.
Directions:
First, chop or dice the egg whites and yolk.
Add next five ingredients.
If you want a heartier lunch, serve over cooled, peeled, boiled potatoes. Enjoy!
Copyright © 2008-2015 Dorena DellaVecchio, Ph.D.
Read more about the writer: Dorena DellaVecchio, Ph.D.
---
Post Your Comment...
---