Love, Faith, and Grandparents
As Shakespeare said, "love does not alter when alteration finds." For me, my grandparents' marriage is a reminder that not only does love exist, but that love lasts. After meeting in high school, and only allowed 15 minutes to talk on the phone each night, they are among the most dedicated and devoted couples that have reached the wonderful milestone of 50 years. And they are still going strong, which is such a beautiful testament to love.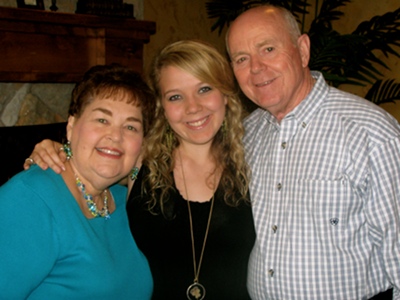 As I celebrated their anniversary in Colorado Springs last July, I thanked them for committing to love, and for creating the path that many will follow. And it isn't always easy. Unfortunately, I have witnessed the way love is precarious business – people everywhere misuse, misunderstand, and misplace love. Many people even give up on love, abandoning it, filling their life with empty imitations. But it was Mother Theresa who said, "what we have to do is love...without getting tired." After 50 years, I imagine there have been times where my grandparents have been tired, where giving up looked better than struggling to hang on. But they didn't. I am proud and blessed to have grandparents who give me true HOPE and BELIEF in a love that will not alter.
On top of their timeless love, my grandparents served as a Godly example of faith and dedication to God's plan. One such story where I imagine it would have been easier to give up rather than hang on happened several years ago when my Dad was only a junior in high school. It was 1980, they were living in Missouri, and my grandfather's company suddenly relocated his family back to their hometown, Dallas, Texas. After putting their house on the market in Missouri, they bought a new place in Dallas, expecting their other home to sell. Shortly thereafter, my grandfather's job again relocated him. This time to Toronto, Canada. . . . now they owned two houses, and could not seem to get rid of either. All seemed bleak.
Understandably, they couldn't buy a third home in Canada, but still needing somewhere to live, they decided to rent. In the process of paying a triple house payment every single month, my grandparents felt God leading them to commit a very significant amount of money to a capital campaign that their church in Canada was launching in order to build a new building. Even though my grandparents had no extra money to put toward this large dollar amount, they resolutely remained faithful to what the Lord had placed upon their hearts. And even though my grandparents were selling all they had to make ends meet, God was providing for them – in ways they couldn't see at the time.
By the end of the capital campaign, just a few short years later, they had miraculously sold both their houses AND completed their pledge for the church. Their faith was exactly that – faith: sure of what they hoped for, and certain although they could not see beyond their own mortal minds. My grandparents wholeheartedly trusted that only God could – no, would – be their source of provision; and if God was on their side, no one could stand against them. This immense faith played a significant role in my Dad's life. He tells me today that their example helped mold his own walk of faith and the way in which he generously financially gives – with full anticipation that he will be remembered and even blessed.
Because my grandparents decided to obey and be faithful, my Dad has also lived with these same principles, and in turn, I have committed to follow the leaders of the generations before me – striving to be faithful no matter the obstacles or circumstances jump in my way.
So at 50 years of marriage, and with, no doubt, many, many stories of faith, I pray for my own marriage...and the marriages of my generation. I pray that the Lord covers today's young women and young men with the same love for their spouses and the same faithfulness unto the Lord that my grandparents built and created. Although I know love is not perfect, my grandparents have shown me that it can always be victorious. And although faith can be hard, my grandparents have showed me that the blessing comes easy for the Lord.
In 50 years, I want to be where they are. I want to look back and see a life full of love and faith that remained no matter what turbulence I encountered.
Copyright © 2008-2015 Destiny Morrow
Read more about the writer: Destiny Morrow
---
Post Your Comment...
---