< Back to Kitchen Keeper Recipes
Fresh Food Favorite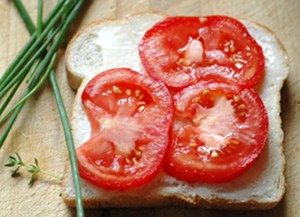 There is nothing quite as delicious as farm-fresh food.
Here is my favorite summertime indulgence. It's not fancy, but it's what a warm summer day calls for.
Plain Ol' Tomato Sandwiches
1 red ripe tomato (beefsteak is always a great choice)
Bakery fresh bread, thinly sliced and lightly toasted.
A dab of mayonnaise.
A sprinkling of pepper and salt.
Prepare the sandwich and enjoy with a tall glass of sweet tea.
Enjoy!
Copyright © 2008-2015 Samantha Ewing
Read more about the writer: Samantha Ewing
---
Post Your Comment...
---