Bring Life to Leftovers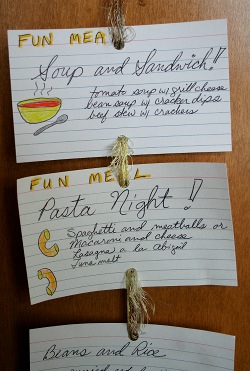 A 1997 United States Department of Agriculture study revealed that Americans wasted over 25% of the food produced in the nation. But today, independent researchers estimate perhaps as much as 40% of food gets tossed! How is this possible, especially in light of America's obesity epidemic? The answers range from restaurant food quality regulations to mom's picky eaters tossing their veggies.
With food prices rising, families need ways to trim waste and save on their food budgets. Here are two simple suggestions to bring life to last night's leftovers – meal plans and meatloaf. These strategies are great ways to keep your kitchen lean and green.
Many moms make meal plans, but if the plans are too ambitious or require special ingredients, waste is likely to happen. Foods not "on the schedule" spoil in the fridge, heading ultimately for the garbage. Instead of committing to a detailed menu, try an index card system with general guidelines for the week such as "Pizza Night" or "Soup and Sandwich Night." This gives the cook and the customers a basic expectation, but leaves the details more flexible to accommodate what's actually in the fridge. Keep a permanent marker on hand to write the opening dates of tomato sauces, sour cream, and other perishables to maximize their lifespan.
Smart cooks know how to reinvent leftovers. Remember your mother's meatloaf? Well, a certain percentage of it probably wasn't really meat. Rather, it may have comprised trimmings from the ends of celery stalks, pasta salad nobody would eat, or perhaps a three-day-old bowl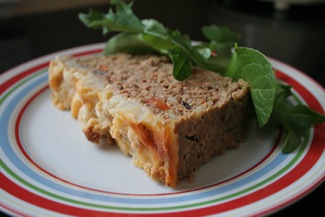 of beans – leftovers made lovely and appetizing again with a dash of ketchup! The meatloaf pictured here was a traditional meatloaf recipe with leftover green vegetables, black beans, and bread crumbs hidden inside. Why throw out good food, just because it doesn't seem to fit the menu? Meatloaf, soup, stir-fry and quiche are excellent dishes to employ leftovers.
So, step away from the rigidity of the recipe, and take a look at what's in the fridge. Carrots, cabbage, and avocado? Whip it into a guacamole dip. Less-than-perfect pears or browning bananas? Time for a fruit smoothie or a sweet bread with pumpkin pie spice. Of course, play it safe and consult resources such as http://www.foodsafety.gov/ when food quality is in question. But never underestimate the life of leftovers as long as they are still fresh. The creative cook cuts cost, not flavor.
Copyright © 2008-2015 Julie Strohkorb
Read more about the writer: Julie Strohkorb
---
Post Your Comment...
---