< Back to Kitchen Keeper Recipes
Apple Cinnamon Dip
You will recognize them by their fruits
Matthew 7:16 ESV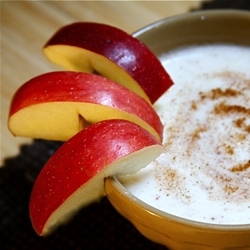 Whole fruit is a true gift from God, from fiber to the natural sugars it's a yummy and healthy treat. Here is a great recipe for the fall to combine with all the apples you can eat!
Ingredients:
1 package of (8 ounces) cream cheese, softened
3 tablespoons milk
2 tablespoons brown sugar
1 teaspoon vanilla extract
1 teaspoon ground cinnamon
¼ teaspoon ground nutmeg
Directions:
Combine all ingredients for the dip.
Serve with all the apples you can eat.
Then enjoy this perfect snack for crisp fall days!
Copyright © 2008-2015 Courtney Pierce
Read more about the writer: Courtney Pierce
---
Post Your Comment...
---