A Rainbow on the Runway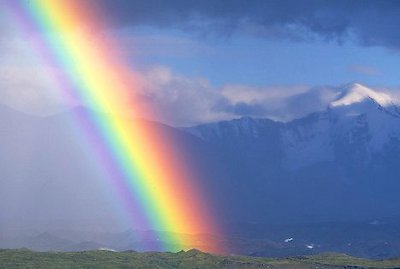 Waiting to take off on the airport runway is never a place where I am most patient. I recently learned that I have more grace on a 17-hour-car ride than I do waiting for a one-and-half-hour flight.
I need to pray for patience. I have known this for years. Last summer I desperately pressed into the Lord as my family and I waited on the runway as we headed home after a wonderful week spent in New York City.
Let me paint a picture…
We arrived at the airport in plenty of time to check bags, obtain boarding passes and even catch a bite to eat. We did not, however, bargain on sitting in the airport for HOURS. But we did and we made the most of it!
Finally we were called to board and again, we waited. We waited for two hours on the runway.
God is good…no, God is AMAZING! He fills us when we feel completely parched and empty. He is so generous.
The kids were doing remarkably well, playing games, chewing gum, snuggling close as their daddy and I promised that we would be leaving for home momentarily; assuring them that we would be in the air in no time.
Oh the empty promises of a parent! We try so hard to quell the waiting of our little one's hearts.
To our chagrin we were left to wait and wait and wait. Little did we know we were waiting on the Lord. We heard thunder and then saw lightening…or was it the other way around. However it happened, we were in the throes of a summer rain shower that had delayed flights up and down the eastern seaboard.
Oh the waiting! Again, I am not patient, especially when I am desperate to be in the comfort of my own home.
Well…God is amazing. He delights us in all circumstances. He lavishes us with unexpected gifts. And His Gift on that day was an amazing one!!
As I looked out the window, my impatient eyes spied a miracle. You see, up to this point in her life, my sweet daughter Caroline had never seen a real rainbow. I directed her attention away from her doodling to the tiny porthole over my shoulder.
To her utter amazement she saw a gift created only by God and seemingly just for her. The sky was filled from end to end with a spectacularly bright and bold double rainbow. Her eyes lit up and within moments we were skyward and headed home.
I learned a valuable lesson that day on the runway. Patience is a virtue and when we are obedient to the Lord and persevere in our patience, He blesses us in amazing ways.
I hold on to this memory, most importantly because seeing a miracle through the eyes of a child is priceless, but also because I need to remember to be patient as to not miss an unexpected gift from above. Thank you Jesus for your double portion of favor!
Copyright © 2008-2015 Samantha Ewing
Read more about the writer: Samantha Ewing
---
Post Your Comment...
---