Five Tips For Organizing Your Mess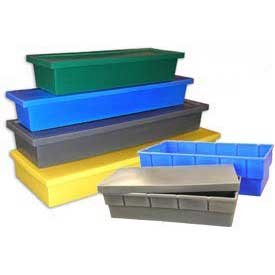 I am not a perfect homemaker…just slightly OCD. I pride myself on the neatness of my nest. There are days, though, that seem to be a bit cluttered and messy, just like real life!
I have friends who are much more proficient in home organizing than I am. I tend to be a clean-your-bathroom-daily-kinda-gal, but don't dare go into my closets for fear you will be smothered by an avalanche of misplaced stuff.
But, I glean from my friends and their brilliant organization skills. I have compiled a list of what I consider the very best… (And no, I have not implemented them completely yet…but I have full intentions and I am very good at talking the talk!)
1. Blue Bins
These fabulous multipurpose bins find themselves in all closets, garages and attics of American homes. Often times filled with holiday decorations, school artwork, and next-season's clothes.
My friend Shannon has found an immensely purposeful use for her blue bins. Each week she brings out a new bin of toys for her children. They each have a bin of their age appropriate toys. They have a week to play with their treasures. At the end of seven days, she packs up the bin puts it away and pulls out another blue bin of activity. The kids seldom tire of their toys. When their interests change she consigns or donates and replaces the old with "new" toys.
2. Soda Cases
You know the kind, the 12 pack boxes that soda cans come in.

The choice to cover and decorate these cases is yours. They work perfectly to store cans of soup and vegetables in your pantry. Reducing clutter and allowing your pantry to look like it just auditioned for a spot in Real Simple Magazine!
3. Laundry Baskets
Okay, this one is all mine. My husband is an extremely organized human being. You would assume that after a decade of marriage his wonderful organization would have rubbed off on me...not quite. But, recently with a decision to homeschool our little ones, I have come to the conclusion that before the school year begins, my home must have some areas of total organization. Enter the laundry baskets. I am a shoe-shopper. Aren't most women? Well, my shoes seem to multiply on their own. In our shared closet, my husband has spent far too many moments tripping over my shoes, so in an effort to save him from undue harm, each month I would line my shoes in perfect rows only to mess them up within days of organizing. So…my solution?
I purchased three cheap ($3 each) laundry baskets. One for casual shoes, one for dressy and one for in between (flip flops in the summer, boots in the fall). It has worked wonders. My shoes are ALWAYS neatly distributed among their baskets and my husband doesn't have to worry about a tripping or falling

4. Produce Containers
My husband takes a tea to work each day. I got so tired of not having a place to put the lids as I take them out of the wash. They always seem to be wayward no matter what my efforts are to contain them. We also use those fabulous Tervis cups…the kind with a lid. Again…where do you put all the lids…especially when all you need is the cup? Enter the produce container, specifically the plastic containers for plums, peaches or strawberries.
I have repurposed the containers and they now hold the lids for our travel mugs as well as our Tervis cups. It has revolutionized cupboard where we keep our glasses. We are no longer pelted as we open the cupboard doors by fallings lids! Better yet, my super organized husband loves that he can always find a top for his travel tea!
5. Tote Bags (all sizes)
I am always trying to find a bag for the different activities I am involved with. I constantly changed bags based on my mood or, better yet, my outfit. (I am a fashion girl and love coordination!) Until recently my bags sat waiting for a chance to carry all of my supplies…
I now have a tote bag for each of my activities. I went through all of my bags and designated a purpose for each. I have a bible study bag, a mother's group bag, a beach bag, a crocheting bag, even a bag for my grocery bags.
Boy…talk about organized! The bags have all found a home hanging neatly, ready for departure, from hooks in my laundry room!
Release yourself from perfection and a perfectly kept home. Find ways to organize along the way and you won't miss out on the many wonders of your sweet and precious family!
May God Bless you and your home!
Copyright © 2008-2015 Samantha Ewing
Read more about the writer: Samantha Ewing
---
Post Your Comment...
---