Setting Your ADHD Child on a Course for Academic Success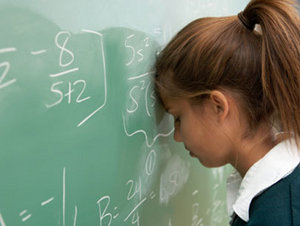 Have you ever been in this situation? You're running as fast as possible through the airport, but they close the gate minutes before you arrive. And it doesn't help that you took a right instead of a left after the escalator, which led to baggage instead of to your terminal. Perhaps it was the desk attendant, whose accent you couldn't understand, or the rows of rapidly changing flight numbers on the departure screen. Bottom line – navigating a foreign environment feels frustrating.
Anyone who has experienced such travel stress has a window into the world of children who struggle with Attention Deficit Hyperactivity Disorder in school. School systems can feel like foreign environments to students with weak organizational skills or attention deficits. When the rubber meets the road, that frustration can become a one-way ticket to low self-esteem without the right flight gear.
Thankfully, parents today have a wide range of supports to help their ADHD kids navigate school responsibilities. Brain chemistry research has led to better medications and better educational instruction techniques in the classroom. Parents can start the school year off right with these tips to help their ADHD children on a journey to success:
Setting the right course at home
A brain with divided attention is working on many levels at once, and that can be a good thing. But, setting priorities and channeling energy toward completing one task at a time is critical.
Organize a specific place for homework where all materials are kept. This is a good place for a whiteboard or message board that lists jobs or school assignments for the week, and a kitchen timer to help your student budget manageable chunks of time.

Post a chart to organize family chores and morning/evening routines. When your child completes tasks, provide an age-appropriate reward at the end of the day or week. A chart makes accomplishments visually satisfying.

Have a consistent routine for mealtime, homework, and bedtime.

Establish a consistent location for toys, library books, completed school papers, and other important items. Knowing where their belongings are gives ADHD children a sense of calm and order.
Setting the right course at school
Talking with your child's teacher, even before the school year begins, can make a huge difference in the teacher's approach to your ADHD child.
Know the teacher's method of classroom organization, so you can ask detailed questions like, "Did you put your homework in the green bin this morning?" or "It's Wednesday. Did you remember your math workbook?" Teachers depend upon students to learn routines, but ADHD kids will need these routines reinforced at home, even if they are taking medication.

If possible, request that your child sit up front, or in a place that minimizes distractions and allows the teacher easy access.

Familiarize yourself with the teacher's specific communication signals or incentive programs so you can reinforce these at home.

Utilize teacher blogs and websites that give up-to-date information on all the classroom news. Communication with teachers has never been easier.
Setting the right course with your pediatrician
Medication alone cannot help your student stay the course in developing organization or time-management skills. Any doctor will tell you that eating healthy brain-supporting foods, getting adequate sleep and exercise, and staying well hydrated are keys to battling ADHD.
Discuss with your child's doctor the many short-acting and time-released ADHD medication options available. Be aware that these medications may have side-effects such as appetite loss and sleep disturbance.
Don't underestimate the power of fish oil to fuel the brain's efficiency naturally. Discuss with your doctor what kind of fish oil might be appropriate for your child in addition to or instead of traditional ADHD medications.

Check out online resources, such as http:// www.CHADD.org, the Children and Adults with Attention Deficit/Hyperactivity Disorder official website, which connects parents and provides trainings for families. This organization offers free workshops and webinars on many ADHD topics.

Remember that ADHD is often a genetically inherited trait, and very common among creative, smart people. If you or your child needs testing, ask your pediatrician for a referral to a reputable testing center.
ADHD is a gift, not a disability
Parents who educate themselves about the nature and struggles of ADHD children develop compassion and understanding. The ADHD child is not purposely trying to be difficult or academically lazy. Rather, it is difficult for him to be consistent and successful in a left-brained world when his brain is so interested in a myriad of things. Help him streamline. Provide rganizational structure and monitor his projects to completion.
ADHD does not have to be a one-way ticket to frustration. Even if the journey at times seems circuitous, your assistance sets your child on track for a lifetime of organizational success. Stay the course! Then, your ADHD child is well-equipped to help point the way for the next generation of creative thinkers.
Copyright © 2008-2015 Julie Strohkorb
Read more about the writer: Julie Strohkorb
---
Post Your Comment...
---