Pack Healthy School Lunches That Make Dentists Smile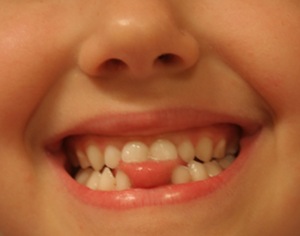 It isn't easy for children to cheer over carrots and celery at the lunch table, when other kids are eating chips and cookies. But, it's either that, or potentially face the drill at the dentist office. Many dentists spend a good deal of time educating parents on how food choices can affect the rate of tooth decay.
American dental hygienist instructor Diane Vernetti-Callahan offers a continuing education course for dentists and hygienists that links good nutrition with oral health. Her list of healthy snacks during and after school include:
fruit kabobs: melons, grapes, and berries
carrots or celery with hummus
whole grain bagels or crackers with peanut butter or cheese
trail mix made with popcorn and nuts
smoothies made with yogurt and frozen berries, and
whole grain cereal with fresh fruit
Why these specific foods? Some natural and low-sugar choices can actually help prevent decay, while processed and refined sugary food choices obviously speed up the decay process. According to many oral health experts:
Cavity-inviting foods in a lunchbox include granola and snack bars, white (bleached) breads, and other foods that tend to stick to teeth. Of course, sugary juices, cookies, and other such foods increase bacteria growth as well.
Cavity-fighting foods include cheese and fresh fruits and vegetables. Cheese helps neutralize the acids found in plaque. It also contains calcium, which helps grow strong teeth. Fruits and vegetables, even nuts, help clean the teeth while you eat them, because they are crunchy, activating the salivary glands to help wash away harmful bacteria. The key is to provide foods that do not leave sugary residue on the teeth after your child leaves the lunchroom. Or, at least, instruct children to leave a crunchy carrot until last for a little "brushing."
Australian dentist Joanne Richardson passionately teaches school children and their parents about the importance of establishing good eating habits for a lifetime. She inserts health notes into school newsletters, and makes school visits to encourage kids to choose natural sugars instead of refined sugars. "Drinking juice is a modern phenomenon that leads to a lot of decay," she reports. "Nature intended us to eat the fruit." She recommends only water for school lunches, because it helps maintain clean teeth during the school day.
Of course, nothing replaces brushing and flossing, but good food choices are a key to oral health. If we always provide a juice box at lunch, Dr. Richardson warns, "we are training a generation of kids who, when thirsty, reach for a flavored drink, not water." She suggests parents toss the apple juice, and just provide the apple. Otherwise, consider throwing in a toothbrush and toothpaste ... but that might not go over well in middle school.
Copyright © 2008-2015 Julie Strohkorb
Read more about the writer: Julie Strohkorb
---
Post Your Comment...
---