< Back to Kitchen Keeper Recipes
Potato Muffins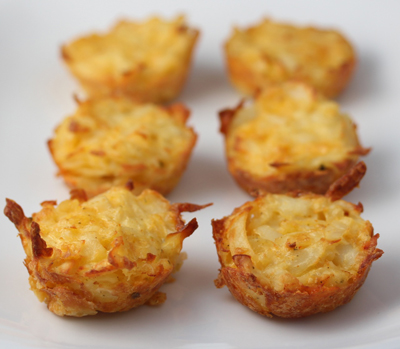 I am always looking for new ways to present breakfast to my little ones. They tire easily of the standard cereal, toast, waffles. So, in an effort to liven things up, I adapted a recipe for Egg Casserole. We call it Potato Muffins.
Ingredients:
1-16 oz. bag of Hash Brown Potatoes (Found in the Refrigerator Aisle)
4 large eggs-slightly beaten
1/4 c milk
2 slices of thin diced (cooked) ham or 4 strips of bacon (cooked and crumbled)
3/4 c shredded cheddar cheese
2 TBS. grated parmesan cheese
Dash of salt and pepper (to taste)
Cooking spray
Mini-muffin tin
Directions:
Pre-heat oven to 350 degrees.
Mix all ingredients in a large mixing bowl.
Spray muffin tin and spoon mix into cups.
Bake for 25-30 minutes until eggs are firm.
Enjoy with a cup of orange juice.

I pray your mornings are filled with new mercies of the Lord. God bless the hands that lovingly prepare each meal!
Copyright © 2008-2015 Samantha Ewing
Read more about the writer: Samantha Ewing
---
Post Your Comment...
---