< Back to Kitchen Keeper Recipes
Jerry's New Year's Burger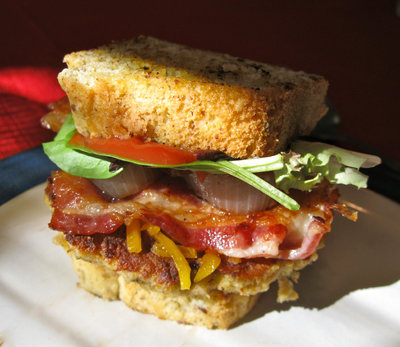 Looking for a creative use for leftover holiday turkey? Try my husband's easy turkey burger recipe that's sure to please every palette. With fewer calories and less fat than beef, turkey makes a healthy meal to start New Year's resolutions right.
Ingredients:
Mix together in a large bowl:
-1½ cups cooked turkey meat, shredded in a food processor
-½ cup bread crumbs (or leftover dinner rolls)
-½ cup turkey broth (or leftover turkey gravy)
-1 egg
-spice to taste with sage, garlic, salt and pepper
Directions:
Form the mixture into burger balls using a large spoon or an ice cream scoop, and lay immediately onto a hot greased pancake griddle.
Press each ball down gently onto the griddle with the flat side of a spatula to create a patty shape, and seer the outside of the burger until browned and crispy on both sides.
Deck the bun with whatever toppings you desire and enjoy!
Copyright © 2008-2015 Julie Strohkorb
Read more about the writer: Julie Strohkorb
---
Post Your Comment...
---