A Grandfather's Legacy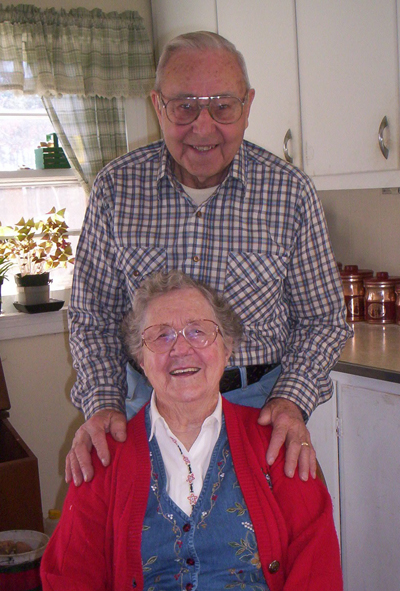 December 26, 2008 was a cold, rainy day in the mountains of Virginia, when family and friends gathered for my grandfather's memorial service. The weather didn't at all match Papa Jenkins' vibrant, life-giving personality. Rather, it reflected how we all felt inside to lose a loved one at the holiday season – numb and dreary – with lonely, quiet days ahead.
Throughout that day, I tried to remember every detail of Papa from my own grandchild perspective. How we enjoyed homemade biscuits with stewed strawberries in the morning whenever we visited. How Golden Grahams was his favorite cereal. He always smelled of aftershave and motor oil, and people came from miles away with their broken lawnmowers for his miracle mechanics. He tinkered in his tool shed and stayed busy in his retirement years with many projects, but he always seemed to have time for a trip "up on the mountain" for some apples or a bike ride through the woods beyond the sweet potato garden.
Those bike rides were one of the best parts of my visits with Nannie and Papa, and I looked forward to them. Papa had carved smooth pathways out of his wooded acreage for walking and riding. It was an adventurous maze for kids to explore. One day, our adventures were cut short by a thunderstorm, and we all raced back to the house as it started to pour. I had gotten pretty wet, but Papa was completely dry.
"How did you stay dry?" I asked in amazement.
"I just eased between the raindrops, sugar," he said with a twist of his shoulders and a boyish smile. I remembered that moment. He always found a way to turn a sour situation into a positive one. That's when I really started paying attention to his amazing attitude toward life.
I cannot imagine the 70 years of marriage memories swirling in my grandmother's mind on the day of Papa's funeral, or in the hearts of their four sons. Life had not always been the golden years that grandchildren often see. Papa had explained gently how childhood had been hard on him, so he had left home at age eleven to start his own life. "What bravery!" I thought. He worked forty years in the cotton mills, and lost his thumb in a heavy machinery accident. His hands were rough and strong, and he would say smiling: "Watch me tie my shoe with this old nub! See, it's no problem at all. I can still use it."
Having a more somber and pensive personality myself, I marveled at Papa's ability to revive my spirit and focus on blessings rather than curses. In the days before homeowner's insurance and modern medicine, he never worried. Instead, he told jokes, ate well, and stayed fit as a fiddle. "The Lord takes good care of me!" he would say.
The minister's eulogy just couldn't commemorate this kind of life well lived. Damp umbrellas quietly collapsed as mourners returned to their cars, the gathering dispersed into whispers, and the motorcade slowly rolled down the hill and back into the busy town. I couldn't believe that my vibrant, larger-than-life grandfather was finally laid to rest.
"Do we have to go now?" asked my grandmother to her sons. It was almost as if she couldn't believe it either. We wanted to linger, as if to hear one of Papa's jokes one more time.
As we emerged from the mausoleum, I contemplated the rainfall, the distance to the car, the children's wet feet. It's an odd feeling how mundane problems – the next meal, wet shoes – still beg attention despite our yearning for the eternal. And then it occurred to me that I would simply "ease between the raindrops."
Copyright © 2008-2015 Julie Strohkorb
Read more about the writer: Julie Strohkorb
---
Reader Comments...
2012-12-05 21:16:35
"A lovely, sweet and geniune tribute to a life well lived. Thank you for sharing it with me. "
- mary jane
---
Post Your Comment...
---