< Back to Kitchen Keeper Recipes
Tropical Smoothies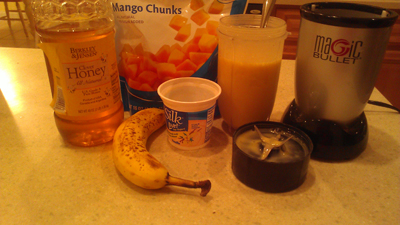 I am not typically a smoothie drinker. But when I adapted/created this recipe, I now use it all year even through the winter! It works well to add a scoop of plain or vanilla flavored protein powder too as a health drink.
Ingredients:
1 cup organic vanilla Greek yogurt (I use vanilla soy yogurt because of a milk allergy and it still works, just not quite as tasty)
1 small banana (or 2/3 of a large banana)
2/3 cup frozen mango chunks
1 Tablespoon honey (raw is best of course)
2 Tablespoons pineapple- orange juice (plain orange juice will also work)
1 Tablespoon milk (again, I use soy here due to milk allergies. If using Greek yogurt, use 2 Tablespoons milk)
1 scoop of non-GMO protein powder (Optional)
Directions:
Mix honey into yogurt and then pour into blender.
Add rest of ingredients and blend together.
Enjoy!
If you use Greek yogurt, it is much thicker than other yogurts. You may need to add a little more liquid to achieve desired consistency. (We like thicker smoothies). I have also found adding organic, unsweetened, shredded coconut on top at the end makes this perfectly tropical!
Copyright © 2008-2015 Dorena DellaVecchio, Ph.D.
Read more about the writer: Dorena DellaVecchio, Ph.D.
---
Post Your Comment...
---