Making Christmas Memories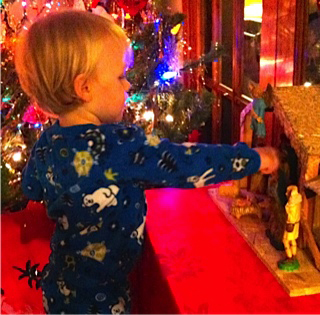 Childhood memories of Christmas flood my heart with joy! Singing carols at church throughout December, practicing my recitation for the children's program, putting up our tree and getting to help with the ornaments, buying & wrapping Five & Dime Cent Store gifts, making sugar cookies, watching Rudolph, singing carols at our local hospital and traveling over the river and through the woods to Grandmother's house!
Warmth and Hospitality at Christmastime
I was blessed to have parents who truly worshiped Jesus throughout the year. Each Christmas morning we gave honor to Him by reading the story before opening the gifts under our tree. My husband and I had the joy of continuing this tradition with our three children and now I am the Mimi (Grandma) that the little ones come to visit!
Although we know that Jesus is the actual reason for this season, keeping our focus on Him can be challenging. There are many scheduled activities and quite often we feel pressured to spend more than we should. I would love to encourage you today to keep your Christmas celebration simple and inexpensive.
One year we had moved to California from the east coast for a tour of duty in the military. Since we were so far away, our families sent lots of wrapped gifts for our three small children. On Christmas Eve we gathered all our gifts for them along with all those that were mailed to us… and it was too much. There were mounds of gifts that morning, more than the children needed, and my husband and I decided that this would never happen again! You may need to let grandparents know how you feel and ask them to support your values. If your children are blessed with generous grandparents, then you as the parents can buy less!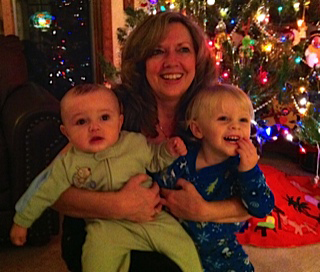 An Attitude of Generosity
Your children will be blessed if you teach them to have an unselfish attitude about Christmas. As you are thankful to God for His gift of Jesus, they will learn to be thankful too. And since God is generous with us, we can have an attitude of generosity too. Our giving is often expressed through presents, but God's gift was primarily about His desire to have a relationship with us.
Instead of encouraging our children to make long lists of wants, let's change our focus to make lists of what they would like to give. If they have saved some of their own money, they can bless others by buying gifts. If not, they can think of ways to give of their time and talents by offering their help or making homemade gifts and cards. Teaching our children and ourselves to be good managers of what we own is a principle that needs to be remembered at Christmas!
The Gift of Loving Relationships
Creating an atmosphere of warmth and hospitality comes from our hearts. God's love for us should be celebrated at Christmas. He demonstrated His love to us by becoming Immanuel, God with us! There is no better way to demonstrate your love for your children and grandchildren than by spending time with them. And it should be stress-free time! Relax and have fun together. You will help yourself do this if you keep your activities and gift-giving at a minimum so you can enjoy the season and be a blessing to Jesus and to others.
Giving Time and Love to Others
Ask God to help you emphasize the values of thankfulness and generosity throughout this special season. Can you serve together as a family? Can you give to a child or family in need? There are always others less fortunate and keeping that before your family will help them to resist selfishness and ungratefulness. Praying for others and asking God to help them will also promote a generous spirit.
As you celebrate the gift of Jesus this Christmas, I pray that you will be in wonder of the magnitude of His gift. May you and your family be so full of His peace and joy that you will be innovative in extending it to those around you!
Copyright © 2008-2015 Dawn Sheridan Kollar
Read more about the writer: Dawn Sheridan Kollar
---
Post Your Comment...
---