Earwax for Show and Tell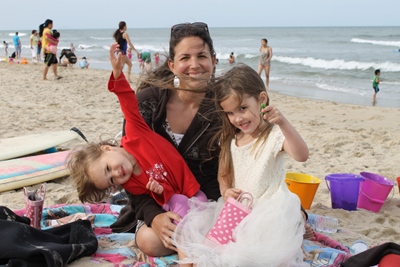 Being a mom of three (almost four) and a teacher for over fourteen years, I have definitely come across some interesting and unique things kids do and say. The gifts kids give sometimes can be quite hilarious. My own children have given me such various treasures as rocks, bird bones, dead crabs, and flowers. The stories they have brought home from school and church have also kept me rolling.
But, I do not know if my daughter's latest and greatest "Show and Tell" extravaganza will ever be topped within our household.
You see, in the dead middle of winter, my daughter's school set up a wonderful day called, "Beach Day," where the students enjoyed beach activities (such as playing in sand, water, etc.) within a toasty warm room. It was a great hit!
Along with that tremendously fun day, my daughter's Show and Tell for the week was to "bring something that reminded the class of the beach." My daughter was sooo excited; she knew exactly what to bring.
Her older brother is a surfer and uses surf board wax on his surf boards. He always makes her feel so special by calling her "his wax keeper." Whether it's summer or winter, that girl will watch her brother surf and gladly be the keeper of his wax.
Well, little did ANY of us know that Samantha was under the impression that this special wax was—earwax.
So, when Samantha went into Show and Tell that day with her treasure, she held out her "brother's ear wax" for all of her friends to touch and ask questions about.
She was so proud explaining how she was her "Brother's wax keeper" and the various ways this earwax could be used in surfing.
Samantha's teacher was getting such a kick out of this demonstration that it wasn't until the end that she asked Samantha, "Now, if that is used for his board, do you think maybe that it is called 'board wax'?"
Which left us some explaining to do….
Copyright © 2008-2015 Cindy Aitken
Read more about the writer: Cindy Aitken
---
Post Your Comment...
---