< Back to Kitchen Keeper Recipes
Breakfast Frittata
This has a great taste and has become a dish we have each week. It is quick and easy to prepare. This can be made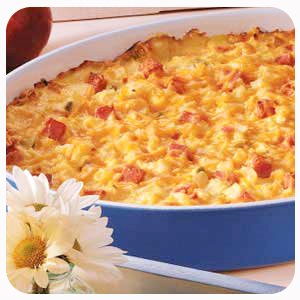 the night before, stored in refrigerator, and baked the next morning. We've discovered it also provides tasty leftovers.
Serves 4- 6
Baking time 1 Hour
Ingredients:
2 cups cooked diced ham (We don't eat pork products. I use turkey-ham that has no pork and it is very tasty).
One 16 oz. bag hash browns
1 cup mild or medium cheddar cheese, shredded
1 cup medium or sharp cheddar cheese, shredded
5 eggs
1 Tablespoon onion powder
1/2 cup sour cream
1/2 teaspoon black pepper
1 stick of butter (melted)
Directions:
Preheat oven to 350 degrees F.
In a 9X13 casserole dish, layer hash browns, ham, and cheese until all gone.
Pour melted stick of butter evenly distributed over layers.
In a medium mixing bowl, whisk together onion powder, eggs, sour cream, and pepper.
Pour mixture evenly distributed over casserole and bake for an hour.
Copyright © 2008-2015 Dorena DellaVecchio, Ph.D.
Read more about the writer: Dorena DellaVecchio, Ph.D.
---
Post Your Comment...
---