< Back to Kitchen Keeper Recipes
Cool Quinoa Summer Salad
I am always looking for that perfect, crisp summer salad that will make me full without making me sluggish. One thing I cannot bear is lethargy in the summer…it's too HOT!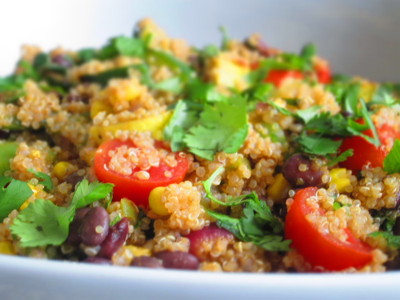 I think this is delicious!
Ingredients:
1 cup cooked (rinsed and cooled) Quinoa
1 tomato (diced)
1 cup English cucumber (diced)
2 TBS Crumbled Feta Cheese
Coarse Kosher or Sea Salt and Ground Pepper to taste
Optional: Red Onion (diced)
Juice of 1 lime
Directions:
After the Quinoa has cooled, toss with tomato, cucumber, Feta cheese and salt and pepper.
Sprinkle with lime juice and enjoy!
May this food nourish your body the way the Lord's Word nourishes your soul. In Jesus' name, Amen.
Copyright © 2008-2015 Samantha Ewing
Read more about the writer: Samantha Ewing
---
Post Your Comment...
---