Freedom From Bondage
For over two hundred years our nation has fought for freedom from bondage, and continues to fight. Blood has been shed and lives have been lost to this great cause. We are grateful for the sacrifices that have been made by the thou­sands upon thousands of men and woman who have given their lives for the sake of freedom.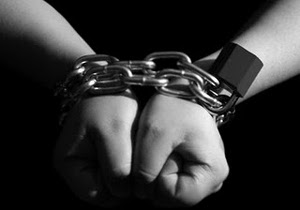 There is another kind of bondage we find ourselves prey to. It is the bondage of sin, and unless we are set free, we will suffer eternal consequences. Jesus came for this one purpose, to set us free. He fought, bled, and died for the cause and was victorious over death, hell, and the grave.
Since such a great price was paid for our freedom, let us not dishonor our Lord by returning to our sin. Jesus has set the captive free. His blood is on the Mercy Seat. Let us honor our Divine Hero by appropriating everything His death released.
We are free to live the abundant life, so let us live our lives to the fullest, enjoying the many blessings God has provided for us. Let us thank Him for these blessings by being a blessing to others. Jesus said, "Freely ye receive, freely give" (Matthew10:8 KJV) and Romans 6:22 says, "But now being made free from sin, and become servants to God, ye have your fruit unto holiness, and the end everlasting life" ( KJV).
God said He would have us be holy even as He is holy. How do we live a holy life? I found that if we search the Word for those Scriptures that give clear direction as to what God would have us do, it will help us in living holy lives.
In 2 Peter 1:2-11, Peter encouraged us: Do you want more and more of God's kindness and peace? Then learn to know him better and better. For as you know him better, he will give you, through his great power, everything you need for living a truly good life: he even shares his own glory and his own goodness with us! And by the same mighty power he has given us all the other rich and wonderful blessings he promised; for instance, the promise to save us from the lust and rottenness all around us, and to give us his own character.
But to obtain these gifts, you need more than faith, you must also work hard to be good, and even that is not enough. For then you must learn to know God better and discover what he wants you to do. Next learn to put aside your own desires so that you will become patient and godly, gladly letting God have his way with you. This will make possible the next step, which is for you to enjoy other people and to like them, and finally you will grow to love them deeply. The more you go his way, the more you will grow strong spiritually and become fruitful and useful to our lord Jesus Christ. But anyone who fails to go after these additions to faith is blind indeed, or at least very shortsighted, and has forgotten that God delivered him from the old life of sin so that now he can live a strong, good life for the Lord.
So work hard to prove that you really are among those God has called and chosen, and then you will never stumble or fall away. And God will open wide the gates of heaven for you to enter into the eternal kingdom of our Lord and Savior Jesus Christ.
These Scriptures are taken from the Living Word. There are many, many more that give us this clear understanding of what God wants and expects from us. In Ephesians 5:10 it tells us to learn as we go along what pleases the Lord. Once we learn, then we must do it, this is how we live a holy life and prove to our Lord that we are truly grateful for the sacrifice He made on our behalf.
Words in themselves without action are nothing more than dead dry leaves blowing in the wind. They must be tethered to the heartstrings. They need to be grounded. "Action speaks louder than words," is a cliché but it speaks truth. To tell the Lord we are sorry for our sins, that we are thankful for His many blessings, or that we love Him are beautiful words, and necessary, but they are just words unless we take action to show God we are serious in what we say.
Jesus is our perfect example of putting words into action. He didn't just say He loves us, He died to prove it.
Copyright © 2008-2015 Sylvia Hensel
Read more about the writer: Sylvia Hensel
---
Post Your Comment...
---