< Back to Kitchen Keeper Recipes
Old-Fashioned Cheesecake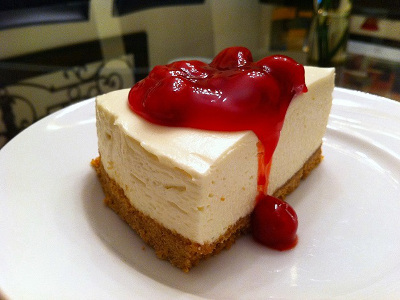 Have you been searching for that old-fashioned cheesecake recipe, maybe just like Grandma used to make? Here's a recipe to try!
Ingredients for the crust:
24 graham crackers
1 tsp. vanilla
¼ cup sugar
¼ cup melted butter
Directions for the crust:
Crush graham crackers with rolling pin.
Add vanilla, sugar and butter.
Line bottom of ungreased 9x13 glass pan with the graham cracker mixture.
Ingredients for the filling:
3 packages of cream cheese (8oz each, softened)
1 tsp vanilla
1 ½ cups sugar
5 eggs
Directions for the filling:
Cream together softened cream cheese and sugar.
Add vanilla and eggs.
Pour over cracker-lined pan and bake for 45 minutes at 325 degrees.
Let cool before step 3.
Ingredients for topping:
1 ½ pints sour cream (3 cups)
1 tsp vanilla
6 Tbsp. sugar
Directions for topping:
Mix sour cream, vanilla and sugar together and pour over cheesecake.
Return to oven and bake for 5 minutes at 400 degrees.
Top your delicious cheesecake off with some seasonal fruit and enjoy!
Copyright © 2008-2015 Alyson Shedd
Read more about the writer: Alyson Shedd
---
Post Your Comment...
---