Oh Beautiful, Motherhood
When my daughter, Sophia, was little I overheard her singing America the Beautiful. My heart was full of delight when she sang this beautiful hymn with her own rendition to the phrase……"and crown thy good with motherhood!" We all know the word is brotherhood to this beloved hymn of our country, but I was taken by this "prophetic" utterance from the lips of a child.
I have experienced a growing concern in my spirit concerning the subtle de-emphasis of the role of wife and mother in our modern-day church culture. I am a product of the 1980's where everything was BIG. Big churches; big programs; big, oversized high schools; big, bright colors; big shoulder pads and big hair were the things that will forever mark that decade. (I must admit I miss the big hair!)
I was taught to be a strong, independent woman, to be well-educated and that the only way to be a "somebody" in this world was to hold a title and have a successful career. As a caveat, I am still pro-education. I believe my role as a Proverbs 31 woman has been greatly enhanced in part because of my education.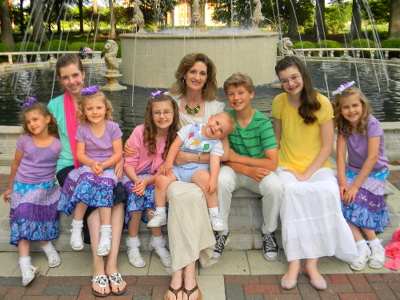 Yet, we were taught that being a mom was something "anybody" could do, and that we must strive for something higher. I remember listening on the radio to a well-known Christian psychologist who advised young people to wait at least five years after marriage before having your first baby. Another Christian leader at my church sighed with disgust one Sunday thatshe had lost one of her ministry leaders because she was "having her first baby!" Another ministry leader advised me not to start having children immediately after getting married so I could do the things I wanted before being "tied down."
Christianity Today published an article entitled "Youth Ministry's Family Blind Spot" by Hope Henchey that encouraged me to write this column. I simply want to point out a couple of points from this article that I pray will enlighten you to this growing issue.
"A 2012 Barna study found that only 22 percent of youth pastors of Protestant Churches intentionally expose their students to healthy families in the church as a major part of their ministry strategy. Yet, nearly all of these students will find themselves as husbands and wives, fathers and mothers one day. They need to be ready."
This is my heart, dear reader!
We must start integrating family and ministry together! Those of us who have godly husbands and children give hope to so many teenagers from broken homes. We can show the church that motherhood is a joyous career and that we don't "lose" ourselves in diapers . . . but rather are expanding the kingdom of God! There is a quote that states "sometimes you have to watch someone love something before you can love it yourself." Every gift and talent the Lord gave me I now use to not only further my family mission, but together we are ministering outside the walls of our home to inner-city children across the water.
On a sensitive note, my heart cries with the woman in her 30's, 40's and even 50's who always wanted a godly husband and children, but it simply didn't happen. I have very dear friends who have never married, and their lives are rich with ministry and missions work. They have become "aunts" to our children, and we include them in all of our family birthday and holiday celebrations.
Please, dear reader, know I am not being insensitive to your situation. My point is that as women, we should from a young age embrace the idea that motherhood is a beautiful and desirable career . . . whether you will physically bear children or spiritually bear children, such as Amie Carmichael or Lillian Thrasher (missionaries to India and Egypt, respectively).
Remember, as women we are all made by God with nurturing, maternal hearts. Let's all be nurturers of children, whether they are from our womb or someone else's, and sing prophetically with my daughter, "and crown thy good with 'motherhood' from sea to shining sea!"
Copyright © 2008-2015 Alyson Shedd
Read more about the writer: Alyson Shedd
---
Post Your Comment...
---