How to Rock Tulle Without Looking Like You're Playing Dress-Up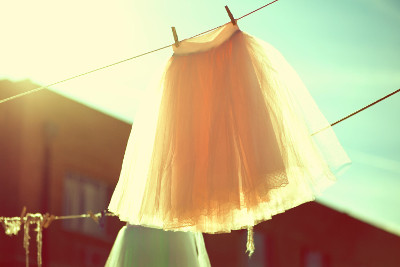 There are plenty of times that we get caught up in reminiscing about the good ole' days of playing dress up in our mother's oversized shoes and signature red lipstick. You may even have some fleeting thoughts of trying out current trends but feel like you might be too mature to sport them yourself.
Maybe that's how you feel when you think of adding tulle to your wardrobe. Usually that material makes you think of ballerinas and tutus. Yet, there are plenty of mature silhouettes that use this material while fitting in with your own personal style sphere.
Tulle originated from the fashions of the eighteenth century and is most commonly used in veils, gowns, and tutus. With the evolution of this fabric, there are many styles that have been created to fit every body type and worn more often than just for special occasions.
The great part about introducing this material into your wardrobe right around this time is that the holidays are on the horizon and it will give you more options to wear it casually during the day and transform it for the night to complement your holiday party schedule.
THE MINI – This silhouette cannot be too short otherwise it will resemble a tutu. My suggestions are to look for something that ends right above the knee. Keep the tulle light so it doesn't look super puffy. Keep your colors light or deep and dark. Bright at this length starts to resemble the prom queen 'Betsey Johnson' 1990's look. You want to be fun and fashionable, but not so trendy that you start to look silly and over the top.
THE MID TEAR – This has to be my favorite silhouette because it complements so many body types. The hem should end mid-calf and having a straight cut across is the most versatile. You can get a little bit funkier with this length and allow it to have some more punch with poof and even more punch with the color choices. Due to the length it will always weigh itself down and look classic. Think Audrey Hepburn in Breakfast at Tiffany's.
THE FLOOR LENGTH – This is most likely the true everyday silhouette. Many times this length does not offer many layers to it because you want to stay away from the wedding gown look. Additionally you will find styles that offer a fabric skirt underneath with the sheer tulle over. With color choices for this length it's safe to stay dark with blacks, camo greens, eggplant purples, even a black with a little sparkle.
As far as the topping off to these fab pieces, try silk tanks or silk military button downs, even a cotton tank topped with a cutesy jean jacket. To get more dramatic for the nighttime, consider a cropped blazer or lace bolero with a plain undershirt. You can even add a little pattern with the tie-in's of floral, polka dots, paisley and the list goes on and on. It is good to search for a pattern that has a glimpse of the tulle color in it.
A great place to search for affordable tulle numbers is Etsy.com. There are plenty of indie designers and seamstresses on this popular site that will work with you on price and potentially make you a custom skirt. Don't be scared step out of your comfort zone and keep yourself feeling young without looking like your 4-year-old at ballerina class.
Until next time stylistas!
Style and Love
Evie Phillips
Copyright © 2008-2015 Evie Phillips
Read more about the writer: Evie Phillips
---
Post Your Comment...
---