< Back to Kitchen Keeper Recipes
Vegan Chocolate Dream Pie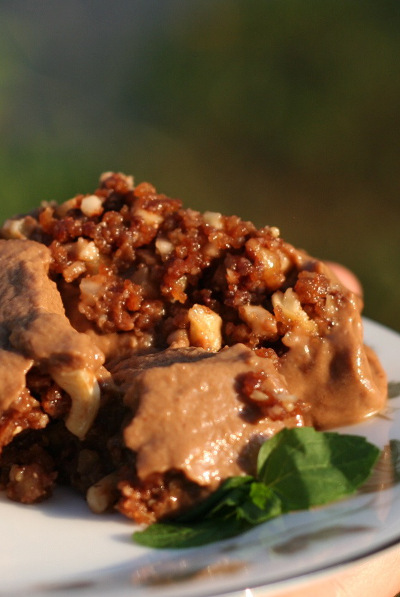 Looking for a healthy dessert alternative to fruit? Try this uncommon combination of nuts, seeds, dates, chocolate and avocado. It will enlighten your viewpoint on veganism.
Crust ingredients:
2 cups pitted dates
1 cup nuts (hazelnuts, cashews, pecans, or any kind you like)
Crust directions:
Roast the nuts for 10 minutes at 350 degrees, and then chop coarsely.
Cover the dates in hot water for 5 minutes, then drain and squeeze out excess water until dates are mushy.
Mix dates with nuts and press into a pie dish.
Filling ingredients:
2 ripe avocados
½ cup tahini
½ cup cocoa powder
½ cup sugar
5 oz. melted dark chocolate
1 tsp. vanilla extract
2 cups soy, almond, or rice milk
3 ½ tsp Agar Agar (This is a gel setting powder available at Asian food stores, made from seaweed as a vegan alternative to beef gelatin.)
1/3 cup boiling water
Filling directions:
Blend all filling ingredients except agar agar and boiling water in a blender until smooth.
Dissolve agar in 1/3 cup boiling water and let simmer for 30 seconds until fully dissolved.
Pour agar agar solution slowly into running blender until thoroughly incorporated.
Pour mixture into crust base and refrigerate two hours before serving.
Enjoy this pie's light and silky consistency. Add more agar agar and chill longer to cut like a pie, add less agar agar, or none at all, to treat the dish like a pudding.
Who would have guessed that avocado and chocolate make such delicious counterparts?
Thank you to my friend Heather for this recipe, all the way from Melbourne, Australia.
Copyright © 2008-2015 Julie Strohkorb
Read more about the writer: Julie Strohkorb
---
Post Your Comment...
---