Answered Prayer
"Now Thomas (also known as Didymus), one of the Twelve, was not with the disciples when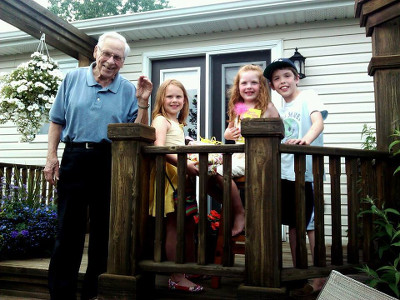 Jesus came. So the other disciples told him, "We have seen the Lord!" But he said to them, "Unless I see the nail marks in his hands and put my finger where the nails were, and put my hand into his side, I will not believe." A week later his disciples were in the house again, and Thomas was with them. Though the doors were locked, Jesus came and stood among them and said, "Peace be with you!" Then he said to Thomas, "Put your finger here; see my hands. Reach out your hand and put it into my side. Stop doubting and believe." Thomas said to him, "My Lord and my God!" Then Jesus told him, "Because you have seen me, you have believed; blessed are those who have not seen and yet have believed." John 20:24-29

Our prayers never fall on deaf ears, the Lord hears them all and answers them according to His will. His will is perfect and His plan is divine. I trust the Lord to answer my prayers in His time.
Waiting on the Lord is an amazing opportunity to build character. Godly character. Waiting on the Lord takes a sincere pressing in and trust in the Fruit of His Spirit. We find that His love is abundant and that He fills us with joy in times of wait. He washes us in His grace and through His patience we find that the waiting is really an chance to feel His presence.
I have prayed a prayer that has encouraged in me a deep abiding strength in the Lord, it has, for all purpose, shown me I can be steadfast and long suffering in His mercy. My prayer was for my Grandfather.
I am blessed to say that I grew up with a father who loved me abundantly as unto the Lord. He was kind and loving and encouraging and patient. He was called home to heaven when I was 17. Seventeen is a pivotal time in a young woman's life. It is a time when you are faced with very adult decisions while still embodying the immaturity of youth. I praise God for pressing on grandpa's heart to love me and guide me on earth with great discernment and wisdom.
We lost my beloved grandmother in 2003. She had been married to grandpa for fifty years. After the funeral, I sat in their tiny living room in the home they occupied for the better part of a lifetime. I remember the moment with great detail. It was the first days of October, the front door of the tiny bungalow hung open wide enough to allow for a gentle breeze that wafted in fresh autumn air. The lighting in the room lent to the conversation at hand, a bit melancholy.
Gam was my champion and my hero. She protected me from my well-meaning, but equally addicted mother. She taught me how to be a homemaker, a lady, a survivor. She gave me a sense of security. That security, I sense was something she also gave grandpa. He loved her well. She loved us all.
I asked, without hesitation, how he felt about heaven. I shared my own anticipation of seeing her in heaven when it was time for the Lord to call me home. My grandfather's response was not what I expected. He simply said, "I will never see her again."
My heart sank. The kind of sinking that takes your breath away and for a moment all you see is black. I thought of the discouragement he must be feeling, the pain and want. The longing for his lost love. I asked in an equally plain manner, "Why?" He went on to share how we become a part of the atmosphere; a cloud. I was dumbfounded.
This conversation I was having was with the man I considered to be wise beyond comprehension. How was it possible in his eight decades of life and living could he possibly believe we just dissolve into the atmosphere. My mind was boggled; my faith was shaken.
After my grandmother died, the Lord pursued me with abandon. He set in my path person upon person who loved Him deeply and with immense trust. He put in me a great desire to trust Him and petition Him for the desires of my heart. In my seeking for His heart, I found myself longing to share God's love with my sweet, beloved, grandpa. My prayer for longer than I can imagine has been, "Lord, Jesus, please reveal yourself to my grandpa."
I have yearned and longed to share Christ's message with him and know that he 'gets it'. In the past two years he has begun reading the Bible, and watching preachers on TV. He always has some sly commentary about those who evangelize on TV, but has mentioned with curiosity things he has learned from the Bible...but always in passing.
Recently, my aunt was spending the day with my grandpa. They were discussing most likely the weather or the news and in his signature non-chalant way he says, "I woke up from a nap last week and a six foot tall man with a beard was standing right in front of me. I looked at him and said 'What are you doing here?' and he vanished. I checked all the locks on the doors and nothing was open."
My aunt replied, "Dad, I think you saw Jesus, He reveals himself to those who doubt. Maybe He was revealing himself to you. How did you feel? Were you scared?" To which my grandfather replies, "No, I wasn't scared at all, I felt peaceful." An answered prayer. The Lord is revealing Himself in real and tangible ways to my sweet grandpa. I am grateful and humbled by the Lord's grace and mercy.
My prayer now is that my grandfather would feel that peace in his day-to-day and that he would know beyond a shadow of a doubt that the Lord is real and so is heaven.
Copyright © 2008-2015 Samantha Ewing
Read more about the writer: Samantha Ewing
---
Post Your Comment...
---